Putin Urges Iran To Accept Nuclear Proposals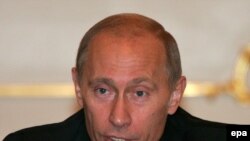 Vladimir Putin (file photo) (epa) July 4, 2006 -- Russian President Vladimir Putin today urged Iran to accept an international package of incentives aimed at defusing the standoff over Tehran's nuclear program.
He was referring to a package put forward by the five permanent members of the UN Security Council, the United States, Russia, China, Great Britain, and France, plus Germany.
On July 5, EU High Representative for Common Foreign and Security Policy Javier Solana is expected to tell Iran's top nuclear negotiator, National Security Council Secretary Ali Larijani, that Iran must accept the terms of the package by July 12, when foreign ministers of the five permanent Security Council member nations and Germany consult in Paris.
Western nations are demanding UN Security Council action -- including sanctions -- but Russia and China oppose such moves.
Iranian officials have said they will not respond to the six-power offer before mid-August.
(compiled from agency reports)

THE COMPLETE PICTURE: RFE/RL's complete coverage of controversy surrounding Iran's nuclear program.
CHRONOLOGY
An
annotated timeline
of Iran's nuclear program.