Two Italians Arrested In CIA Probe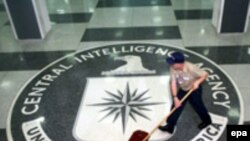 The foyer of the CIA headquarters in Langley, Virginia (epa) July 5, 2006 -- Italian police have arrested two officials from the country's military intelligence service on suspicion of helping the U.S. foreign intelligence service, the Central Intelligence Agency (CIA), in the alleged kidnapping of a terrorism suspect in 2003.
They are the first Italian officials to be linked to the abduction of Hassan Mustafa Osama Nasr, also known as Abu Omar.
An Italian judge has issued arrest warrants for four U.S. citizens.
Abu Omar says he was kidnapped in Milan, flown to Egypt and tortured.
An Italian court has already issued arrest warrants for 22 suspected U.S. agents over the abduction.
(compiled from agency reports)