Kazakh President Signs Controversial Media Bill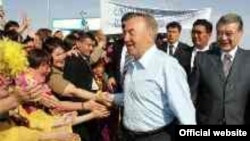 Kazakh President Nazarbaev on the campaign trail ahead of presidential elections in December 2005 (official website) July 5, 2006 -- Kazakhstan's President Nursultan Nazarbaev has signed into law a media bill that critics say tightens government control over the media.
Provisions in the new law tighten registration rules for new media outlets and, for example, ban editors whose organizations are closed down from working as editors for three years.
The Organization for Security and Cooperation in Europe and other organizations had called on Nazarbaev to veto the bill, which was approved by parliament last week.
(AP)