OSCE Asks Kazakhstan To Withdraw Media Bill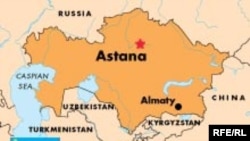 (RFE/RL) PRAGUE, June 19, 2006 (RFE/RL) -- The Organization for Security and Cooperation in Europe (OSCE) has called on the Kazakh authorities to withdraw a bill that would, if passed by parliament, impose significant restrictions on the media.
In a statement, the OSCE's representative on freedom of the media, Miklos Haraszti, says he has asked Kazakh Culture and Information Minister Ermukhamet Ertysbaev to withdraw the proposed amendments and start a public debate on media reform.
Kazakh lawmakers began debating the proposed changes on June 7. The changes would, for example, bar editors of periodicals that have been closed by a court order from working in the same capacity for other publications. They would also double the number of reasons used to deny a media outlet official registration.
Haraszti says withdrawing the bill would pave the way for close cooperation between Kazakhstan and the OSCE.
Kazakhstan is lobbying to assume the chairmanship of the OSCE in 2009.