Military officials did not identify the insurgent but residents of the Sadr City neighborhood said he was Abu Diraa, a commander in the Al-Mahdi militia of radical cleric Muqtada al-Sadr.

He was captured during a 43-minute gun battle, in which Iraqi troops, backed by U.S. aircraft, killed or wounded more than 30 fighters.
In a statement, the U.S. military said that the raid was launched to apprehend "an insurgent leader responsible for numerous deaths of Iraqi citizens."
In a separate operation on July 6, Iraqi and U.S. forces seized arrested the commander of another Al-+Mahdi militia unit. Adnan al-Unaybi was arrested near Hillah, 95 kilometers south of Baghdad.
The operations are part of a crackdown on sectarian militias blamed for an escalation in Shi'ite-Sunni violence.
(AFP, AP)

Sectarian Iraq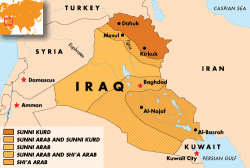 Click to enlarge the image.
SUNNI, SHI'A: Iraq is riven along sectarian lines, faults that frequently produce violent clashes and are a constant source of tension. Sectarian concerns drive much of Iraqi politics and are the main threat to the country's fragile security environment.


THE COMPLETE PICTURE: Click on the image to view RFE/RL's complete coverage of events in Iraq and that country's ongoing transition.