Still, al-Maliki has taken a tough stance against all criminal activity, and has vowed in a number of recent interviews to use all means of force necessary to curb the violence.

Four key governorates currently face daunting security threats: Al-Anbar in the west, Baghdad, Al-Basrah in the south, and Diyala, east of Baghdad.

Chaos In The West

Insurgents loyal to Abu Mus'ab al-Zarqawi's Al-Qaeda-affiliated organization have regained control over much of Al-Anbar Governorate, and are posing a major challenge to U.S. and Iraqi forces.

A local security force established by tribesmen under an agreement with the U.S. military has all but ceased operating, after nearly a dozen tribal leaders were assassinated in revenge attacks by insurgents loyal to al-Zarqawi's Mujahedin Shura Council since January.

Local tribal leaders now say they are afraid to be seen associating with U.S. forces, lest they be targeted by insurgents. They would rather appease al-Zarqawi and live.

Insurgents Establish 'Islamic Caliphate'

According to recent media reports, the Mujahedin Shura Council has declared the establishment of an Islamic caliphate in areas extending from Al-Ramadi to western districts of the capital.

Districts of Baghdad under the control of the council have appointed emirs to enforce the council's brand of Islamic law, and gunmen regularly distribute leaflets written by the council detailing acceptable dress and behavior, London's "Al-Hayat" reported on May 24.

According to the daily, two girls were recently abducted off the street in Al-Amiriyah and later released with their heads shaved as punishment for not wearing hijabs, or headscarves. Leaflets were then distributed saying that the shavings were commuted sentences, and the next violators will be put to death.

Shi'ite militiamen have exerted similar control over the Shi'ite districts of Al-Sadr City, Al-Sha'b, Al-Qahira, Al-Baladiyat, and Baghdad Al-Jadidah, where they run street patrols and inspect government offices and girls schools for violations in dress and conduct.

Women and girls are not the only ones vulnerable to such enforcement. A team of taekwondo athletes was kidnapped in Al-Anbar Governorate en route to Jordan on May 17. This week in Baghdad, gunmen stopped a car carrying a Sunni Arab tennis coach and two Shi'ite players, ordered them out of the vehicle, and shot them dead.

The killings came after armed Islamists distributed leaflets warning people in the Sunni Arab districts of Al-Ghazaliyah and Al-Saidiyah against wearing shorts in public.

Current Force Levels Inadequate

Meanwhile, U.S. forces announced that they would send a brigade-size unit to beef up security in Al-Anbar. An Iraqi army officer based in Al-Ramadi told Al-Sharqiyah television that he expects an all-out siege on the city, similar to the 2004 Al-Fallujah operation, the news channel reported on May 29. U.S. military officials have said otherwise.


Iraqi and U.S.-led coalition forces are also faced with a surge in violence in areas north and south of the capital. Sunni Arabs have accused multinational forces of laying siege to Al-Dulu'iyah, located just north of Baghdad in the Salah Al-Din Governorate.
Parliamentarian Abd al-Karim Yasin briefed the Council of Representatives on the situation there on May 29. "The city has been exposed to a severe blockade for eight consecutive days. All access roads and bridges have been closed and the blockade has been in force day and night. All services -- water and electricity supply -- are lacking. Such is the case with medical services, because the only health center in the town has been closed. Ill people cannot reach the center due to curfew," RFE/RL's Radio Free Iraq quoted Yasin as saying.
"We have called on the Council [of Representatives] to immediately send an urgent appeal to the Iraqi and U.S. forces. They should remove the blockade from the town and allow food and medical materials to be supplied and services to return to the town," Yasin demanded
Civil War in Diyala
Insurgents have regained control over much of the nearby Diyala Governorate as well. The tension there is so great that one parliamentarian blamed those charged with security of fanning the flames of sectarianism.
"On Friday, [May 26,] five beheaded corpses were found [of family members] of a man whose house in Al-Miqdadiyah town was stormed during his wedding ceremony," parliamentarian Jalal al-Din al-Saghir told the same parliament session. "We are daily stricken with such horrible news coming from Diyala Governorate, and with the clear and apparent upswing of terror there, observed by the security forces that are in charge of controlling the security situation in Diyala. There is a war with clearly sectarian features [that is] clearly pursuing a demographic change in Diyala Governorate. And, there is a strange silence on the part of the multinational force on the events that happen in this governorate, despite the fact that this governorate holds strategic importance, enabling any group that will dominate this governorate to block the northern road [to or from Baghdad]."
Diyala Governor Ra'd Rashid al-Mulla Jawad told reporters at a press briefing in Ba'qubah that insurgents have laid siege to the governorate and are now attempting to displace residents from their homes.
"Diyala Governorate has been going through a severe, violent, and dangerous confrontation.... It started with attacks against patrols that hold the access points to Ba'qubah city and all parts of the governorate," he said.

Insurgents fled Ba'qubah and took shelter in outlying areas, the governor added.
"They have now launched systemic operations within Diyala Governorate that consist of planting roadside bombs, kidnappings, and daily cases of murders,"he said. "Most recently, we have entered a phase of threats to expel people from their homes and a consequent fulfillment of these threats, especially targeting ordinary poor families."

Jawad pleaded for help from the central government.
"We in the [Diyala Governorate] Council have agreed to suspend council sessions," he told reporters. "This should be a message to the central government, [calling on it] for an improvement of the security in Diyala and sending human and material reinforcements to the police and the army."

Still, it remains unclear whether reinforcements alone could reestablish security in the volatile area.
"Some administration, army, and police officials carry high ranks, but I cannot see that they would have any abilities sufficient for the confrontation [with terror] other than on paper," Jawad said, and demanded that Baghdad grant him special powers to deal with the security situation in Ba'qubah.

Criminals, Armed Gangs Destabilize Southern Port

In Al-Basrah, Shi'ite infighting, corrupt police and security forces, and armed gangs have destabilized the governorate to such a degree that Prime Minister Nuri al-Maliki this week personally led a delegation to address the situation. The delegation follows up an earlier initiative by the Presidency Council, which sent Vice President Adil Abd al-Mahdi to Al-Basrah.

"We must restore security in Al-Basrah and if anyone defies peaceful solutions, then force will be the solution," al-Maliki told Reuters in a May 30 interview. "There's no way we can leave Al-Basrah, the gateway to Iraq, our imports and exports, at the mercy of criminal, terrorist gangs. We will use force against these gangs."

Al-Maliki's comments came three days after someone close to the Al-Fadilah Party threatened to block oil exports from the city, Reuters reported, a charge party spokesman Hassan al-Shammari has denied, RFE/RL's Radio Free Iraq reported on May 30.

Al-Maliki said the security crisis in the city cannot be blamed solely on terrorists, and that tribes and organized criminal gangs are also a problem.
"We will work on reconciling tribes and religious figures and political parties, and also increase the security presence to stop the criminals," he said. Al-Maliki also criticized the role of British forces in the governorate, but failed to give specifics.

Al-Maliki: Security Must Be Priority

The prime minister told Al-Arabiyah television in a May 25 interview that all issues plaguing Iraq, whether political, economic, or social, are related to security. "If we want to rebuild the country, we need to provide security. If security is lost, the country cannot be built."


He said the priority for his administration would be to disarm all armed groups and militias, reiterating early calls for weapons to only remain in the hands of official security forces. He predicted that militias tied to political forces could easily be disbanded, while it will be harder to convince the general public to give up arms, since they must come to trust in official security forces first.
The second task is to form a policy to confront armed gangs, including those released from prison. The government must monitor their movements and keep their actions under control, al-Maliki said.
The prime minister noted that it will be crucial that the armed forces place their loyalty to the nation above political affiliations. "In our new military culture, the security or military man must serve all citizens.... Affiliations weaken the security institution and consequently, they pose a threat" to Iraq, he added.
Al-Maliki also made reference to his oft-mentioned Baghdad Plan to restore security to the capital, saying select units would be charged with protecting the capital. Part of their mission would be to halt further sectarian- and ethnic-cleansing campaigns being carried out in some districts of the capital.
The prime minister's plan for dealing with armed insurgent groups remains less clear. He told Al-Arabiyah that the administration would merge armed groups together, in an attempt to find a framework for national reconciliation, but did not say how. It is expected, however, that he will have a more concrete plan in place by the June 20 national-accord conference in Baghdad.
Some Signs Of Success
While violence continues to rage, there are some signs of success in battling the insurgency. U.S. Major General Bill Caldwell told reporters at a May 18 press briefing in Baghdad that the number of citizens calling in tips on insurgent activity is on the rise. In January, 4,025 tips were called in to a Baghdad hotline; by April, the number had risen to 5,855.
"I don't think you're seeing a rise of 1,300 tips in a month just because all of a sudden there's that much more violence. I think you're seeing a rise because the Iraqi people, many of them are very tired of the violence," Caldwell said. He added that 70 percent of all tips called in are "actionable," meaning they lead to an arrest, confiscation, or other successful operation.

The recent arrest of a number of high-level aides to al-Zarqawi is also reason for optimism. In addition, coalition press releases indicate an increasing number of arrests and prosecution of insurgents.

There are signs as well that coalition gains are forcing insurgent groups to change their tactics to avoid capture. "Al-Zaman" reported on May 24 that insurgent groups have been forced to resort to low-tech means of communication such as oral or handwritten messages to avoid being detected.

Commanders of insurgent groups have instructed new recruits coming into Iraq not to use mobile telephones, land lines, or the Internet to communicate. "The U.S. Army has carried out successful raids due to tips obtained from the Internet and mobile telephones," a source close to an armed group said.
Nuri al-Maliki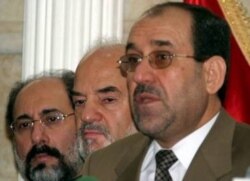 Nuri al-Maliki (epa)

NURI KAMIL AL-MALIKI (Jawad al-Maliki is a nom de guerre) was born in 1950 in the Twayrij al-Hindiyah district of Karbala.
Commonly known as Abu Isra, al-Maliki joined the Islamic Al-Da'wah Party in 1968.
He holds an M.A. in Koran and Arabic Language Studies from Salah al-Din University in Irbil.
Following a crackdown on outlawed parties by the regime of Saddam Hussien, al-Maliki fled the country in 1980, seeking asylum first in Iran and later in Syria.
While in Syria, he also published a magazine -- "Al-Mawqif" ("The Attitude") -- that became the mouthpiece of the Islamic Al-Da'wah Party.
For several years, al-Maliki served as the head of jihad and military operations for the party, subsequently becoming a member of its political bureau.
Following the liberation of Iraq, he served as deputy director of the de-Ba'athification commission established by the Coalition Provisional Authority.
In 2004, al-Maliki was elected deputy speaker of the interim National Assembly.
He played a leading role in settling the August 2004 crisis in Al-Najaf when supporters of Shi'ite cleric Muqtada al-Sadr battled coalition forces for three weeks.
In 2005, he served as chairman of the transitional National Assembly's Security and Defense Committee. He was also a member of the committe responsible for drafting Iraq's new constitution.
He has also served as a spokesman for transitional Prime Minister Ibrahim al-Ja'fari and as spokesman for the United Iraqi Alliance.
More about al-Maliki:
Premier-Designate Promises Tough Approach
Tough Challenges Face New Prime Minister


THE COMPLETE PICTURE: Click on the image to view RFE/RL's complete coverage of events in Iraq and that country's ongoing transition.