Blasts Strike Sunni Mosques In Iraq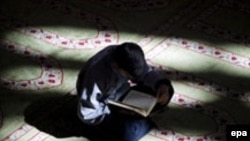 A Sunni reading the Koran in the Um Al-Qura mosque (file photo) (epa) July 7, 2006 -- Bombs have struck at least three Sunni mosques in Baghdad and north of the capital, killing at least nine people and injuring eight.
The attacks came as Iraqis were emerging from Friday prayers.
In other news, the Japanese news agency Kyodo says Japanese troops have begun withdrawing from Iraq.
Japanese officials say the country's 600 troops will leave their base in the southern city of Al-Samawah over the course of the next two weeks.
The troops played a noncombat, humanitarian role in Iraq.
(AP, Reuters, AFP)


SUBSCRIBE For weekly news and analysis on Iraq by e-mail,
subscribe to "RFE/RL Iraq Report."