Also in 1991, he signed up with the unofficial Confederation of Peoples of the Caucasus, and in 1992 led a battalion of volunteers from the North Caucasus who fought on the side of separatist region Abkhazia in its 1992-93 war against Georgia.
When the Russian Army marched into Chechnya in December 1994, Basayev organized the defense of Grozny. Six months later, in May 1995, some 11 members of his family, including a wife and two children, were killed in a Russian bombing raid.
Into Budyonnovsk
Apparently in retaliation for their deaths. Basayev and a group of some 130 fighters set out to drive north into the Russian heartland to stage a major reprisal.
Halted by traffic police in Budyonnovsk, Stavropol Krai, Basayev ordered the seizure of a local hospital, in which some 1,000 people were taken hostage. After two attempts by Russian forces to release the hostages failed, resulting in the deaths of some 100 people, Basayev negotiated their release and his own safe conduct back to Chechnya live on Russian television with then Russian Prime Minister Viktor Chernomyrdin. That feat made him a hero in the eyes of many Chechens.
In August 1996, Basayev played a key role in the successful attack on Grozny that led to the signing of a cease-fire and the Khasavyurt accord that ended the war.
A Restless Civilian
Then, in January 1997, he ran unsuccessfully against former Chechen commander in chief Aslan Maskhadov in a presidential election hailed by both Russia and the international community as free and fair. At that time, Basayev told journalists he envisaged Chechnya as a moderate Islamic state within the Commonwealth of Independent States (CIS) that could serve as an intermediary between Russia and the Muslim world.
Maskhadov, who won the election with some 66 percent of the vote to Basayev's 23 percent, offered Basayev a government post that Basayev initially refused. Over the next 12-18 months, Basayev was in and out of the cabinet, occupying the post of prime minister or acting prime minister. But according to a Czech journalist who got to know him well, he was aimless and bored with civilian life.
In late 1998, Basayev, together with two fellow field commanders, sought unsuccessfully to impeach Maskhadov for taking too soft an approach toward Moscow. Then, in early 1999, he aligned with the radical Islamists who sought to establish an independent Islamic state in the North Caucasus, and who set about undermining Maskhadov's position to that end.
Launching A New War
In early August 1999, Basayev, together with fellow field commander Khattab, launched the ill-fated incursions into neighboring Daghestan that impelled the Russian leadership to embark on a new war.
Basayev played a key role in the resistance throughout the second war, despite incurring serious injuries in February 2000 during the retreat from Grozny that necessitated the amputation of one leg.
In recent years, he served as coordinator and commander of the various groups of resistance fighters across the North Caucasus, and claimed responsibility for a string of terrorist acts, including a car-bomb attack on the Chechen government building in Grozny in December 2003, the killing of pro-Moscow Chechen administration head Akhmad-hadji Kadyrov in May 2004, and the Beslan hostage crisis in September 2004, in which more than 320 people were killed.
Basayev also claimed to have masterminded the multiple raids on police and security facilities in Ingushetia in June 2004 and in Kabardino-Balkaria in October 2005.
Next In Line
Following the killing last month of President and resistance leader Abdul-Khalim Sadulayev, Sadulayev's successor, Doku Umarov, named Basayev vice president. That choice automatically designated Basayev as Umarov's successor in the event of his death.
Following Russian Federal Security Service (FSB) Director Nikolai Patrushev's announcement on July 10 that Basayev had been killed the previous evening, it remains unclear who will become the next vice president. The Chechen resistance has not confirmed Basayev's death.
MORE: For coverage of this topic from RFE/RL's Russian Service in Russian, click here and here.
Shamil Basayev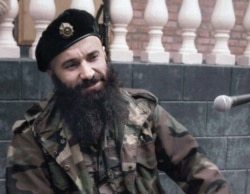 Shamil Basayev in September 1999 (epa)

MASTERMIND OF BUDYONNOVSK, BESLAN: Radical Chechen field commander Shamil Basayev waged a 15-year campaign against Russian control of Chechnya, including masterminding some of the most audacious terrorist acts the world has ever seen. Below are links to some of RFE/RL's reporting about Basayev in recent years.
RELATED ARTICLES
The Rise Of Russia's 'Terrorist No. 1'
Is Basayev Planning To Torpedo The Russian-Chechen Power-Sharing Treaty?
Basayev Rejoins Chechen Rebel Government
Basayev Says He Helped Plan Nalchik Raid
Basayev Says Beslan Raid Prompted By FSB Sting
Moscow Says It Will Punish U.S. TV Network Over Basayev Interview
Budyonnovsk Marks 10th Anniversary Of Terrorist Raid
Look Back In Anger -- Ten Years Of War In Chechnya
CHRONOLOGY
An
annotated timeline
of the conflict.

ARCHIVE
RFE/RL's complete coverage of Russia's war-torn Republic of Chechnya.