"It is very clear that the Iranians have before them a very beneficial proposal, a proposal that would be beneficial for their energy needs, but a proposal that has wider ranging implications as well for trade and other matters," Rice said. "And it is really time to get an authoritative answer to that proposal."
Rice, speaking in Washington alongside British Foreign Secretary Margaret Beckett on July 10, said she hopes Iran chooses cooperation, but if not, the United States and its allies are prepared to pursue possible action in the United Nations Security Council.
European Union foreign policy chief Javier Solana is expected to seek an Iranian response to the proposal during scheduled talks today in Brussels with Iranian nuclear negotiator Ali Larijani.
The proposal, put forward by the United States, China, Russia, and European Union countries in early June, offers incentives in exchange for Iran halting uranium-enrichment activity.
(compiled from agency reports)
Security Guarantees For Iran?
Security Guarantees For Iran?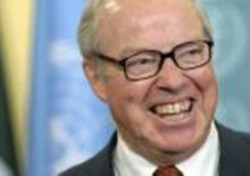 Hans Blix (CTK)

SECURITY GUARANTEES On January 26, RFE/RL Radio Farda correspondent Fatemeh Aman spoke with former UN chief weapons inspector HANS BLIX about the confrontation between Iran and the international community over Tehran's nuclear ambitions. Blix urged the United States to participate in direct negotiations with Tehran and to offer Iran security guarantees that are similar to those being discussed with North Korea...(more)
LISTEN
Listen to the complete interview (about five minutes):

Real Audio
Windows Media

THE COMPLETE STORY: RFE/RL's complete coverage of controversy surrounding Iran's nuclear program.