Croatian Journalist Appears In UN War Crimes Court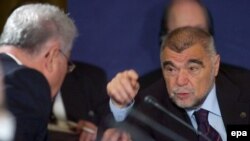 Croatian President Stjepan Mesic (file photo) (epa) July 11, 2006 -- The UN War Crimes Tribunal in The Hague has begun hearing the case against a Croatian journalist accused of publishing the name of a protected witness in a war crimes trial.
Josip Jovic faces charges of contempt of court for identifying Croatia's current president Stjepan Mesic as the witness.
Jovic admits he violated a court injunction but is pleading not guilty, saying it was common knowledge the witness was Mesic.
(AFP, AP)