Senior FSB Figure Among Victims Of Siberian Crash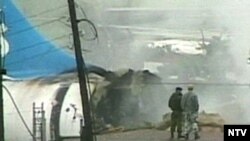 In all, 123 people died when the Sibir Airbus overshot the runway in Irkutsk (NTV) July 12, 2006 -- The chief of a regional division of Russia's Federal Security Service (FSB), Sergei Koryakov, has been identified among the victims of a plane crash in the Siberian city of Irkutsk on July 9.
Officials say at least 123 people were killed when the plane overran the runway and crashed.
Meanwhile, the regional governor has announced plans to build a new airport on the outskirts of Irkutsk next year.
(Interfax, AFP)