PRAGUE, July 12, 2006 (RFE/RL) -- Baku is a city built on oil. The sumptuous oil barons' mansions in the south of the city went up after the first deposits were discovered just over a century ago.
Now, the petrodollars are flooding back.
Driven by the oil boom, in the first half of 2006, Azerbaijan saw real gross-domestic-product (GDP) growth of more than 30 percent. In the first quarter of 2006, the economy expanded year-on-year by nearly 40 percent.
By the end of this year, 300,000 to 400,000 barrels of Azerbaijani crude will be pumped daily to the Ceyhan port and then shipped to international markets.
New Confidence
However, it's not only Azerbaijan's economic star that's rising -- its foreign policy has also been infused with a growing self-confidence.
In recent weeks, President Aliyev has made a number of increasingly bellicose statements on Nagorno-Karabakh, the mountainous enclave Azerbaijan disputes with Armenia.
Speaking on June 23, Aliyev said: "The Armenians should start thinking now where after one year, three years, five [years], where Armenia is going to be and where Azerbaijan is going to be. In the next 20 years, Azerbaijan will receive just from the oil project $140 billion. And if you take into account that Nagorno-Karabakh is our problem No. 1 -- and I don't see any other problems other than that for Azerbaijan -- we will use these tremendous opportunities to strengthen our army, [and] show that our army will be able at any moment to take back our occupied lands."
Oil Price Rise
But is this just posturing in front of a domestic audience? Or does it signal a shift in the direction of Azerbaijan's foreign policy?
The key has been the rapid rise in the price of oil and the growing competition between Russia and the West in the Caucasus. Baku feels it has more cards to play .
The BTC pipeline has given Azerbaijan leverage. Azerbaijan is now no longer dependent on Russia's transit routes to ship most of its oil.
And geography is also playing a role. Azerbaijan shares a nearly 300-kilometer border with Iran.
Relations between the two countries have been tense. Iran supported Armenia in its war with Azerbaijan over Nagorno-Karabakh. And Tehran has often accused Baku of fomenting separatism among Iran's ethnic Azeris, who make up over 20 percent of the population. Baku fears that a conflict in Iran could tip the balance and lead to an exodus of ethnic Azeris from Iran back to Azerbaijan.
U.S. Ties
It's a measure of Azerbaijan's growing regional importance that in April Washington put aside its reservation's about Baku's human rights record to invite Aliyev to the White House. On the agenda, among other things, the United States's nuclear standoff with Iran.
In Washington, Aliyev trod a careful path, saying Azerbaijan was an ally in the war on terror, but stressed that if the United States decided to attack Iran, Azerbaijan would not help.
This apparent desire for a balanced foreign policy -- between Russia, Iran, and the West -- seems to be shared by many members of the Azerbaijani political elite.
Ilqar Memmedov, a former member of the Azerbaijani opposition, says that Azerbaijan's position is different to Georgia's pro-Western orientation and Armenia's close ties with Russia.
"Practically all thinkers and political-opinion leaders support the foreign policy aimed at integrating with Western structures such as NATO [and] opening a European future for Azerbaijan and strong cooperation with the United States. At the same time, to provide good cooperation with Russia and some level of cooperation with Iran. In terms of foreign policy, Azerbaijan is very much a consensual democracy," Memmedov says.
But is this more engaged foreign policy sustainable? Jonathan Eyal, the director of studies at the London-based Royal United Services Institute, sounds a note of caution.
"The striking thing about Azerbaijani foreign policy is that it is more assertive, but at the same time it's not forging the regional alliances that they really need," Eyal says. "There has been no substance to the discussions with Georgia or Ukraine, nor has there been very serious thinking whether they want to be anchored in an organization such as NATO in a formalized clear way that same way, for instance, that Georgia has done. So it is still very much a policy of instinct."
Problems With Oil Wealth
And, as experience has shown, oil wealth can be both a blessing and a curse. Many in Azerbaijan are concerned that the oil revenues won't be spent wisely, especially in a country that graft watchdog Transparency International has said is one of the most corrupt in the world.
Economists have also warned that if Azerbaijan's economy isn't managed carefully enough, it could suffer from the so-called Dutch disease -- where an increase in revenues from natural resources can de-industrialize a nation's economy.
Tom de Waal, a London-based journalist who has written a book on Nagorno-Karabakh, says that Azerbaijan's oil wealth could also bring with it internal strife -- something that could have an effect on its foreign policy.
"There's obviously an issue, which is that you're going to have a much more revolutionary underclass, who as the rich get richer and they're not sharing it, get more militant. And then you could see strikes among oil workers, you could see Islamist movements growing. There's plenty of potential for destabilization," de Waal says.
At a crossroads then, Azerbaijan could face two vastly different futures -- a democracy of sorts, where oil wealth trickles down to the people or a society of extremes, where increasing wealth disparity becomes a force for social unrest.
Russia And Global Energy Security
Russia And Global Energy Security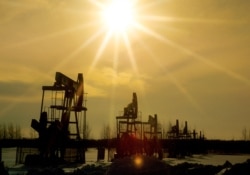 An oil field in Russia's Republic of Bashkortostan (TASS file photo)


ENERGY SECURITY is increasingly moving to the top of the EU's agenda in its dealings the outside world. A recent report identifies the European Union's main energy objectives as not just securing gas and oil deliveries from Russia, but also ensuring that it has reliable alternative sources, including in Central Asia. Nonetheless, EU officials say relations with Russia take center-stage in their thinking....(more)
RELATED ARTICLES
EU Maintains Codependent Energy Relationship With Russia
Turkmenistan: The Achilles' Heel Of European Energy Security
U.S. Official Urges Reforms In Energy-Producing Countries
ARCHIVE
A
complete archive
of RFE/RL's coverage of energy issues in the Caspian Sea region and Russia.