The announcement came as foreign ministers of the United Nations Security Council's five permanent members plus Germany met in Paris today to discuss the Iranian nuclear crisis.
Douste-Blazy said Iran has not given any indication that it is ready to seriously engage proposals to end the crisis.
The United States has described Iran's response to a Western incentives offer to end its nuclear program as "disappointing and incomplete."
Talks between Iran's top nuclear negotiator, Ali Larijani, and EU foreign policy chief Javier Solana ended in Brussels on July 11 without an answer from Iran.
(Reuters, AP, AFP)
Security Guarantees For Iran?
Security Guarantees For Iran?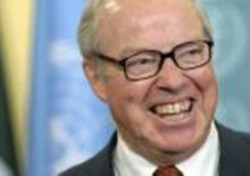 Hans Blix (CTK)

SECURITY GUARANTEES On January 26, RFE/RL Radio Farda correspondent Fatemeh Aman spoke with former UN chief weapons inspector HANS BLIX about the confrontation between Iran and the international community over Tehran's nuclear ambitions. Blix urged the United States to participate in direct negotiations with Tehran and to offer Iran security guarantees that are similar to those being discussed with North Korea...(more)
LISTEN
Listen to the complete interview (about five minutes):

Real Audio
Windows Media

THE COMPLETE STORY: RFE/RL's complete coverage of controversy surrounding Iran's nuclear program.