Kyrgyz officials last year said the annual $2 million the United States pays for use of the base -- which is informally called the Ganci air base by the Kyrgyz side -- is too low.
Inconclusive talks began in late May but adjourned before restarting on July 12.
The U.S.-led coalition operating in Afghanistan has used the base at Manas International Airport since late 2001.
Defense Minister Ismail Isakov stressed in June that Kyrgyzstan is not seeking to expel U.S. troops stationed on its territory.
Military Bases In Central Asia
Military Bases In Central Asia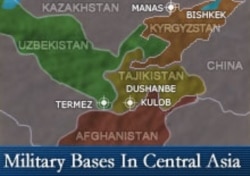 Click on the map for an enlarged image.

PROJECTING POWER: Since the collapse of the Soviet Union and the onset of the war on terror, Central Asia has played an important role in military-security issues. At times, Russia and the West have clashed over questions related to military deployments. RFE/RL has provided extensive coverage of this increasingly important geopolitical matter.
RELATED ARTICLES
U.S. Official Discusses Policy In Central Asia
Kazakhstan Looks To Build On Alliance With Putin
The Geopolitical Game In Central Asia
Dushanbe Conference Focuses On Regional Security
Russia And U.S. Often At Odds In Central Asia
China-Russia Bloc Challenges U.S. In Region


THE COMPLETE STORY: Click on the icon to view a dedicated webpage bringing together all of RFE/RL's coverage of Kazakhstan, Kyrgyzstan, Tajikistan, Turkmenistan, and Uzbekistan.