Isakov told journalists in Bishkek that talks aimed at settling a dispute over the U.S. air base at Manas will resume in the coming days. He said only the terms of the U.S. presence would be raised with U.S. officials.
The comments come almost a week after talks on the issue in Bishkek ended inconclusively.
President Kurmanbek Bakiev had asked the United States to pay 100 times more than it currently pays for renting the land on which the base is located. He had given Washington until June 1 to accept the proposed increase, or vacate the base.
The Pentagon is believed to be paying some $2 million a year for the base, which was opened in 2001 for operations in nearby Afghanistan.
(AP, ITAR-TASS, Interfax)

Military Bases In Central Asia
Military Bases In Central Asia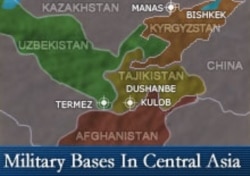 Click on the map for an enlarged image.

PROJECTING POWER: Since the collapse of the Soviet Union and the onset of the war on terror, Central Asia has played an important role in military-security issues. At times, Russia and the West have clashed over questions related to military deployments. RFE/RL has provided extensive coverage of this increasingly important geopolitical matter.
RELATED ARTICLES
U.S. Official Discusses Policy In Central Asia
Kazakhstan Looks To Build On Alliance With Putin
The Geopolitical Game In Central Asia
Dushanbe Conference Focuses On Regional Security
Russia And U.S. Often At Odds In Central Asia
China-Russia Bloc Challenges U.S. In Region


THE COMPLETE STORY: Click on the icon to view a dedicated webpage bringing together all of RFE/RL's coverage of Kazakhstan, Kyrgyzstan, Tajikistan, Turkmenistan, and Uzbekistan.