Speaking at a joint news conference with German Chancellor Angela Merkel in Stralsund, Germany, he also called on major powers to send a unified message in the standoff over Iran's nuclear program.

"I agree with this notion that the Iranians must understand that they can't wait us out, and can't hope to split a coalition, and so the first step is to go to the United Nations and speak with as common a voice as possible," Bush said.

The five permanent UN Security Council members -- the United States, France, Britain, Russia, and China -- and Germany backed the incentives package, which was offered to Iran on June 6. During talks on July 12, they decided to refer the matter to the Security Council after Iran failed to reply.

Merkel today said "other steps" would be necessary if Iran did not agree to the offer.

Iranian President Mahmud Ahmadinejad today reiterated that Iran would not respond to the offer before mid-August.
The United States has consistently accused Iran of seeking to develop nuclear weapons -- a charge that Iranian officials dismiss.
The International Atomic Energy Agency (IAEA) reported in June that Iran is continuing to enrich uranium and that nuclear inspectors have made little progress on shedding light on worrying aspects of Tehran's nuclear activities.

(compiled from agency reports)
U.S. IAEA Governor Gregory Schulte
U.S. IAEA Governor Gregory Schulte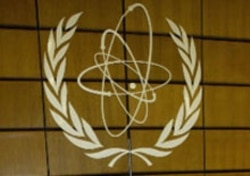 THE INTERNATIONAL COMMUNITY SPEAKS: Listen to excerpts from a November 22 Radio Farda interview with Gregory Schulte, the U.S. representative on the Board of Governors of the International Atomic Energy Agency (IAEA).


LISTEN
Listen to the complete interview:
Real Audio
Windows Media
THE COMPLETE STORY:
For RFE/RL's complete coverage of controversy surrounding Iran's nuclear program,
click here.
CHRONOLOGY: An annotated timeline of Iran's nuclear program.