Iran has warned that it will respond if Israel attacks Syria. Realistically, however, Iran and Syria have been involved with this conflict from the outset because they are the main outside sponsors of Hizballah. U.S. Ambassador to the United Nations John Bolton alluded to this relationship on July 14 at the UN Security Council in New York. "No reckoning with Hizballah will be adequate without a reckoning with its principal state sponsors of terror," Bolton said.
Israel Points Fingers At Tehran
Within hours of Israeli retaliation for the raid and commencement of efforts to recover its soldiers, Israeli officials began assigning some responsibility for the Hizballah attack to Iran.
"There is an axis of terror and hate, created by Iran, Syria, Hizballah, and Hamas that wants to end any hope for peace," said Israeli Foreign Minister Tzipi Livni, according to the Israeli Foreign Ministry website.
Major General Udi Adam, chief of the Israeli Defense Forces' Northern Command, added: "Hizballah, which is a terror organization, operates from inside Lebanese soil with Iran's assistance and financial aid," Jerusalem's Channel 2 television reported. "Iran signed a defense treaty with Syria not too long ago, which is why they are all one single package."
"We know for a fact, and you know it too, that Iran supports these organizations," Adam asserted, while also assigning some blame to Lebanon's government.
Tehran Talks Tough
Iranian reaction was not immediately forthcoming. President Mahmud Ahmadinejad had been touring East Azerbaijan Province for several days, where he gave several speeches excoriating Israel.
"There are also some countries that claim to be democracies and supporters of freedom and human rights but which keep silent when this regime [Israel] bombs Lebanon in front of their eyes and slaughters people in their houses," Ahmadinejad said in Sarab on July 13, state television reported. "They keep silent and they support murderers with their silence."
Countries that stay silent will be viewed as Israel's "accomplices," he said, and will be judged accordingly.
In Tehran the same day, Supreme National Security Council Secretary Ali Larijani and Foreign Ministry spokesman Hamid Reza Assefi condemned Israeli actions, IRNA reported.
As hostilities entered their second day on July 13, the Israeli Foreign Ministry voiced concern that its missing soldiers will be sent to Iran.
"We also have specific information that Hizballah is planning to transfer the kidnapped soldiers to Iran," the ministry's statement said, according to the government's press office.
Although Iran has rejected the possibility that the Israelis will be transferred there, such speculation has historical echoes. Israeli airman Ron Arad, who was shot down over Lebanon in 1986, was reportedly sent to Iran. It is also believed that William Buckley, the Central Intelligence Agency's Beirut chief of station, who was taken hostage in 1984, was sent to Iran for interrogation. He was tortured to death.
The same July 13 Israeli government statement added that Iran is Hizballah's "main benefactor" and provides "funding, weapons, and directives."
"For all practical purposes, Hizballah is merely an arm of the Tehran jihadist regime," the Israeli government asserted.
The statement argued that Iranian and Syrian support to groups like Hizballah, Hamas, and the Al-Aqsa Martyrs Brigade is ideologically driven, but also serves as a diversion from other international issues.
A Long History Of Ties
Some Iranian connections with Hizballah and Hamas are well documented. Larijani was in Damascus on July 12 and, according to KUNA, he met with Hamas leader Khalid Mishaal and leading figures from the Palestinian Islamic Jihad, the Popular Front for the Liberation of Palestine-General Command, and other groups. He was to meet with a Hizballah delegation, KUNA added, but the Lebanese could not come.
Representatives from all these groups participated in a conference in Tehran in April, and they participated in similar events in Tehran in 2001 and 2002. Furthermore, they met with Ahmadinejad when he visited Damascus in January 2006, and they frequently meet with Iranian officials in the Syrian capital and travel to Iran.
Tehran has never tried to hide its support for these groups, which it views as legitimate resistance movements, and it has taken the lead in trying to raise funds for the Hamas-led Palestinian Authority (for more on this topic, click here and here).
Among all these groups, Tehran's relationship with Hizballah is the closest. Iranian officials had a leading role in the creation of Hizballah in the early 1980s, and the organization's ideology is based on the Iranian theocratic system of Vilayat-i Faqih. Although it has never renounced its platform of creating an Islamist government similar to Iran's, Hizballah now operates within the Lebanese political system, with its members running for office and serving in the cabinet and the legislature.
A visitor to the Hizballah press office in southern Beirut will see pictures of the founder of Iran's Islamic republic, Ayatollah Ruhollah Khomeini, and of the country's current supreme leader, Ayatollah Ali Khamenei. Travelers in other predominantly Shi'ite parts of Lebanon will note the numerous posters of these Iranian clerics as well. Hizballah hospitals and schools continue to receive funds from Iran's Martyrs' Foundation.
The U.S government, which classifies Hizballah as a terrorist organization, has asserted that Iran provides Hizballah with funding and weapons. Press reports from September 2002 note U.S. claims that Iran provided surface-to-surface rockets to Hizballah, and there are repeated allegations that Tehran provides Hizballah with millions of dollars annually.
Tehran dismisses such accusations, saying it supports Hizballah only with moral and political backing.
Hizballah has repeatedly denied, furthermore, that it is directed by the Iranian government. Most recently, on July 15, Mahmud Qamati, deputy chairman of the Hizballah Political Council, told Al-Jazeera: "We would like to confirm today that the Iranians or Syrians have nothing at all to do with the actions of the resistance in Lebanon, or with the confrontation of the Israeli aggression." He said such allegations are meant to pressure the two countries to force Hizballah to disarm, as called for by UN Security Council Resolution 1559.
Israeli sources claimed on July 15 that an Iranian C802 shore-to-ship missile that was operated by Iranians struck an Israeli Navy vessel off the Lebanese coast. The Iranian Embassy in Beirut denied on the same day that any of the country's military personnel are in Lebanon, Al-Alam television and the Lebanese National News Agency reported. Iranian Foreign Ministry spokesman Hamid Reza Assefi denied on July 16 that Iranian missiles were used.
The UN Weighs In
Iran's support for Hizballah on Lebanon concerns the international community. A UN report in April said the cooperation of Iran and Syria is needed to bring about the disarmament of all Lebanese militias, and it referred to Hizballah as "the most significant Lebanese militia." The subsequent Security Council Resolution 1680, which was issued in May, cited Syria's negative influence on Lebanese affairs and indirectly referred to Iranian influence.
The relationship between Tehran and Damascus has grown warmer in recent years, as both Iran and Syria face increasing international pressure. The two countries have signed military agreements, and their chief executives have exchanged visits.
Ahmadinejad telephoned President Bashar al-Assad on July 13 and declared that an attack on Syria would be an attack on the Islamic world and would elicit a response, Hizballah's Al-Manar television, Iranian state radio, and SANA reported.
Iranian Friday Prayer leaders' sermons, the content of which is determined in Tehran by the 10-member executive board of the Central Secretariat of the Central Council of Friday Prayer Leaders, has echoed this theme, as well as support for Hizballah. In Tehran, Ayatollah Mohammad Emami-Kashani encouraged Muslims to back Hamas and Hizballah, the actions of which he described as "self-defense," state radio reported. In the southern city of Ahvaz, Ayatollah Musavi-Jazayeri said Hizballah has "smashed the myth of [Israeli] invincibility" and described Hizballah's actions as "a source of pride for the world of Islam," provincial television reported.
Supreme Leader Ayatollah Ali Khamenei said in Tehran on July 16 that the most recent events in Lebanon and the Palestine territories prove that "the presence of the Zionists in the region is a satanic and cancerous presence and an infected tumor for the entire world of Islam," state television reported.
Avoiding International Isolation
Avoiding International Isolation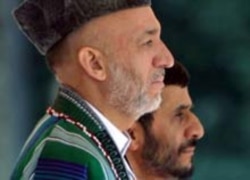 Afghan President Hamid Karzai (left) with Iranian President Mahmud Ahmadinejad in Tehran on May 27 (epa)
DIPLOMATIC OFFENSIVE:
As the United States and the European Union increase pressure on Iran regarding its nuclear program, Tehran has launched a wide-ranging and ambitious diplomatic offensive, including high-level state visits with countries including China, Indonesia, Afghanistan, Azerbaijan, and Pakistan. In May, Iranian President Mahmud Ahmadinejad participated in a high-profile
summit of the so-called Developing 8 (D8) group
of countries in Bali. Below are some links to RFE/RL's coverage of Iran's efforts to boost international support for its position.
Tehran's Shanghai Plans Seen As Bold Geopolitical Stroke
Nonaligned Movement Expresses Support For Iran
Afghan, Iranian Presidents Tout Strong Historical Ties
Iranian Foreign Minister In Pakistan For Energy Talks
Iranian Foreign Minister Visits Baghdad
ARCHIVE
To view all of RFE/RL's coverage of Iran, click here.

THE COMPLETE STORY: RFE/RL's complete coverage of controversy surrounding Iran's nuclear program.