Take the purchase of shares this week in the Russian energy giant Rosneft, which made an initial public offering (IPO) of shares valued at more than $10 billion on the London and Moscow stock exchanges.
The China National Petroleum Corporation (CNPC) wanted to buy $3 billion of the shares, almost one-third of the total offering.
CNPC already owns PetroKazakhstan, the biggest Kazakh oil company, for which it paid $4.2 billion last year. It also has production or exploration projects in Azerbaijan, Canada, Indonesia, Myanmar, Oman, Peru, Turkmenistan, and elsewhere.
CNPC Denied
But when it came to Rosneft, CNPC was disappointed. It was allocated a bloc of shares valued at $500 million, a mere one-sixth of the huge chunk it had sought.
It's possible that the Kremlin doesn't want China to gain
too much influence in Russian energy affairs despite the agreement in
March between Russia's and China's presidents to increase cooperation in the oil and gas sector.
That's despite the fact that British Petroleum was allocated $1 billion in shares, and Malaysia's state-owned Petronas company received $1.1 billion.
In a statement issued today, CNPC made no reference to the apparent snub, saying only that the purchase of the shares will deepen the long-term relationship between the two companies.
CNPC representatives in Beijing were unavailable for comment on the reasons for the small allocation of shares. But London-based energy analyst Kuen-wook Paik, of the Royal Institute of International Affairs, says that in the past the Russians rebuffed several Chinese attempts to buy into the country's oil assets, sometimes using some rough tactics.
Obstacles Erected To CNPC In Russia
One case was when China tried to buy the Slavneft oil company. "The problem was that one of CNPC's negotiators was 'kidnapped' from the Moscow airport because Russian competitors did not want CNPC to take away this asset," Kuen-wook recalls.
Also facing political lobbying in the Russian parliament, the Chinese subsequently dropped their bid for Slavneft.
Rosneft Chairman Igor Sechin was one of the oilmen seen as not particularly friendly to China. But that appeared to change in 2004 when CNPC made $6 billion available to Rosneft, by paying in advance for 50 million tons of oil to be supplied over a five-year period.
"Rosneft was desperate to borrow money from the Western banks, but the banks were not keen to do that because the image of Rosneft was very bad, because they were regarded as the main player in killing Yukos, [the Russian private oil major]," Kuen-wook says.
The limited allocation of Rosneft shares this time may indicate the limit of Sechin's change of heart.
It is possible that the Kremlin does not want neighboring China to gain too much influence in Russian energy affairs despite the agreement in March between Russian President Vladimir Putin and his Chinese counterpart Hu Jintao to increase cooperation in the oil and gas sector.
Whatever the circumstances of the Rosneft allocations, it is very unlikely that China will lose interest in the Russian market, given that country's vast untapped reserves.
China In Central Asia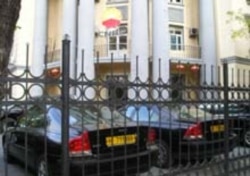 The Almaty,Kazakhstan, office of China's National Petroleum Corporation (RFE/RL)
BEIJING ON THE RISE:
The September 11, 2001, terrorist attacks against the United States prompted Washington to topple the Taliban regime in Afghanistan. At the time, many predicted the United States would gain a new foothold in Central Asia: new U.S. military bases appeared in Kyrgyzstan and Uzbekistan, U.S. foreign aid increased, and much U.S. attention was lavished on the region. Russia and China looked on warily. But the pendulum may be swinging back in Moscow's and Beijing's favor. China, especially, has expended great effort at winning friends in Central Asia and is becoming a force to be reckoned with
....(more)
RELATED ARTICLES
Turkmenistan-China Pipeline Project Has Far-Reaching Implications
Central Asia Looks To Fuel Asia's Economic Boom
The Geopolitical Game In Central Asia
ARCHIVE
To view an archive of RFE/RL's coverage of China, click here.

SUBSCRIBE
For weekly news and analysis on all five Central Asian countries by e-mail, subscribe to "RFE/RL Central Asia Report."