Ukrainian President Holds Talks On New Government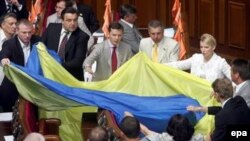 Yuliya Tymoshenko and other deputies from her faction unfurl a national flag in the legislative chamber today (epa) July 20, 2006 -- Ukrainian President Viktor Yushchenko began talks today with his Orange Revolution rival Viktor Yanukovych on forming a new government, amid rising tensions in parliament.
Yanukovych said after the meeting: "We heard each other out, found common ground on many issues and on how to resolve them, and that is important. And now joint actions will be needed and I believe that the first step that the president made today and his further steps will help stabilize the situation."


Yanukovych has been proposed as prime minister a few days before a new government must be formed or fresh elections called.
Ukrainian lawmaker and former Prime Minister Yuliya Tymoshenko issued a new call to Yushchenko today to dissolve parliament, before leading her opposition faction of at least 120 lawmakers out of the chamber in protest.
"If Yanukovych is nominated [for prime minister], I personally will consider this as a betrayal of national interests," Tymoshenko said.
Meanwhile, a deputy from Yanukovych's Party of Regions, Anna German, says that if Yushchenko fails to submit Yanukovych's candidacy, parliament will vote for him without the consent of the head of state.
(AP, Reuters, ITAR-TASS)
BEHIND THE IMAGES: Click on the links below to read RFE/RL's profiles of some of the key players in Ukraine's March 26 legislative elections:

Click on the image for background and archived articles about Ukraine's March 26 elections.




Click on the image to see RFE/RL's coverage of the Ukrainian elections in Ukrainian.

Click on the image to view a photo gallery of some of the key players in the Ukrainian elections.