Venezuelan President Set To Visit Belarus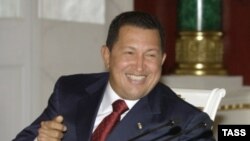 Venezuelan President Hugo Chavez, pictured during a visit to Russia in November 2004 (ITAR-TASS) July 21, 2006 -- Venezuelan President Hugo Chavez is due in Minsk on July 22 as part of a tour that also includes Russia and Iran.
Chavez, a strong critic of U.S. policy, is a rare foreign visitor to Belarus, whose president, Alyaksandr Lukashenka, is shunned by Western leaders who accuse him of totalitarian policies.
Chavez is due in Russia on July 25. Russian Defense Minister Sergei Ivanov said today that Russia will sell Venezuela 30 Su-30 fighter jets and 30 helicopters for $1 billion.
(compiled from agency reports)