Russia: Putin Pushes Greater Arms Exports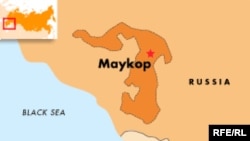 (RFE/RL) Russian President Vladimir Putin was proud to announce last week that, in 2005, Russia's arms exports, worth $6 billion, exceeded their targets by 25 percent. In the past year Rosoroboroneksport, the state arms exporter, has sealed weapons contracts worth $18 billion, according to Putin a 61 percent jump.
While arms sales are a clear economic indicator, they also demonstrate the extent of Russia's influence around the world. Recent arms deals seem to show that Russia is building on its former influence, both in the Middle East and in Latin America.

Speaking at the Federal Military-Technical Cooperation Service (VTS) on March 30, Putin noted that Russia's arms sales have expanded in geographical scope. In particular, Putin, who is chairman of the commission, noted that, since Russia allowed defense companies other than Rosoboronexport to export weapons, Sukhoi and MiG have made significant gains on international markets.

In 2005, Russia sold weapons to 61 countries, mainly in South-East Asia, the Far East, and the Middle East. China and India are the biggest buyers of Russian arms (about 80 percent), although other countries are now beginning to challenge these top buyers. In this context, Putin mentioned Algeria, which in March agreed to buy $7.5 billion worth of Russian arms.

Commission Head
As the head of VTS, Putin has lobbied for the sale of Russian weapons systems during his visits to Malaysia, Thailand, South Korea, Turkey, and Middle Eastern countries.

The supply of Russian weapons to Syria and Iran has been of great concern for both Israel and the United States. Under international pressure, Putin eventually barred the sale to Damascus of Iskander-E tactical missiles, which could have changed the balance of power in the region. However, Russia continues to supply Syria with Strelets (SA-18) surface-to-air missiles, which in the view of Israeli specialists could be easily dismantled and handed over to terrorists.

In December 2005, Moscow also agreed to sell 30 TOR M-1 air-defense missile systems to Tehran. In addition to Syria and Iran, Moscow has negotiated sales agreements with Sudan. Also, Moscow continues to sell small arms and helicopters to the Hamas administration in the Palestinian Authority, which is boycotted both by Washington and Jerusalem. All in all, Russia should sell weapons worth $4 billion to Iran, worth $2 billion to Syria, and worth $400 million to Sudan, the Rosoboroneksport website (http://www.roe.ru) reported.

Venezuela Deal
In 2005, another Russian weapon deal irritated the United States: Moscow and Caracas signed an agreement that allowed for the sale to Venezuela of 100,000 Kalashnikov assault rifles and 15 Mi-17 and Mi-35 combat helicopters. A year later, speaking in Venezuela on April 3, President Hugo Chavez said he is ready to buy more Russian arms.

In addition to Venezuela, Russia sells weapons to (or is negotiating with) Columbia, Bolivia, Mexico, and Chile. And Russian Prime Minister Mikhail Fradkov, who is deputy chairman of VTS, plans to discuss military-technical cooperation during his visit to Brazil and Argentina on April 4-9. One of the focuses of the talks should be joint Russian-Brazilian aviation projects.