Turkmenistan To Bring Up Caspian Dispute With Iran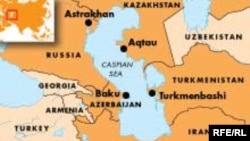 (RFE/RL) July 23, 2006 -- Turkmenistan said today that it hopes a visit by Iranian President Mahmud Ahmadinejad on July 24 will spur progress about how to divide up the resources of the Caspian Sea.
An overall agreement on the Caspian's borders has eluded the five Caspian countries since 1991, slowing the development of energy resources in the region.
Azerbaijan, Kazakhstan, and Russia have reached their own accord, but Iran and Turkmenistan have not signed that.
(AFP)



For a complete archive of RFE/RL's coverage of energy issues in the Caspian Sea region and Russia, click here.
HOW MUCH OIL? The U.S. Energy Information Administration has estimated that the Caspian could hold between 17 billion and 33 billion barrels of proven oil. ("Proven reserves" are defined by energy experts to be 90 percent probable.) Other experts estimate the Caspian could hold "possible reserves" of up to 233 billion barrels of oil. ("Possible reserves" are considered to be 50 percent probable.) By comparison, Saudi Arabia has 261 billion barrels of oil and the United States 23 billion...(more)
See also:
Economic Forecast For 2006 Sees Growth, But Danger In Continued High Oil Prices
How Vast Are The Riches In The Caspian?
Experts Envision A Future Beyond Oil