PRAGUE, 24 July 2006 (RFE/RL) -- Most observers agreed that the Iranian president was unlikely to face any major challenges in meetings his Turkmen counterpart, Saparmurat Niyazov -- known as Turkmenbashi.
Mohammad Reza Djalili, a professor of international politics at the Geneva-based Graduate Institute of International Studies, says Ashgabat and Tehran have enjoyed good relations since Turkmenistan emerged from the collapsed Soviet empire a decade and a half ago.
"There is no problem between the two countries," Djalili tells RFE/RL. "Turkmenistan and Iran have built good relations. And the policy of Turkmenbashi about the neutrality and limitations of [the] influence of the Unites States in Turkmenistan is something seen [as] very good through Tehran's eyes."
Trade Relations
Djalili says the two countries have also enjoyed good trade and economic ties.
"In the economic field, there is a good exchange between the two countries. And there is a good collaboration about [natural] gas," Djalili says. "Iran has imported for internal consumption gas from Turkmenistan. I think it's good neighbors' relations."
Iranians are the second-largest buyers of Turkmen commodities -- primarily natural gas -- after Russians.
An opposition Turkmen website, gundogar.org, quoted an Iranian Embassy source in Ashgabat as saying there was $1 billion in trade between the two countries in 2005.
Mutual relations are guided by some 150 agreements on a wide range of issues.
Running On Gas
Turkmenistan ranks among the world's top 15 gas producers. It sells Iran natural and liquefied gas, as well as polypropylene (a thermoplastic polymer) and electricity.
In 2005, Iran bought 5.8 billion cubic meters of Turkmen gas. Tehran has suggested it would like to more than double that figure -- to 13 billion cubic meters a year.
The terms of Turkmen gas exports were expected to arise during the visit -- particularly since the two countries share an interest in developing new transit routes for gas and other goods.
Mehmet Seyfettin, a Central Asia analyst at the Ankara-based Eurasian Center for Strategic Studies, tells RFE/RL's Turkmen Service that recent discord between Ashgabat and Moscow over the price of gas has encouraged Turkmenistan to seek export routes that bypass Russia.
"Lately -- amid growing disagreements between Turkmenistan and Russia -- Turkmenistan should use all possibilities to strengthen itself, [and] its people," Seyfettin says. "In this regard, a common ground between Turkmenistan and Iran is important because Iran can offer ways for Turkmen gas to [get to] foreign markets. At the same time, Iran is one of Ashbagat's biggest [gas] customers."
Iran and Turkmenistan have already implemented a number of infrastructure projects. They include the $139 million Korpeje-Kurt Kui gas pipeline in western Turkmenistan and the $167 million Dostluk Dam in the south of the country.
Disputed Caspian
Ahmadinejad and Niyazov also were expected to discuss the status of the Caspian Sea. The sea is a source of persistent regional disagreement, with the five bordering states unable to agree on a basic division of Caspian resources since the breakup of the Soviet Union.
Turkmenistan's state information agency said in a statement ahead of the visit that "particular attention" would be devoted "speeding up a settlement" of Caspian legal disputes. Azerbaijan, Kazakhstan, and Russia have reached an accord on their own -- but Iran and Turkmenistan have not signed on to it.
Iranian and Turkmen officials have discussed the issue many times. But Professor Djalili discourages hopes of any breakthroughs on the Caspian issue during Ahmadinejad's visit, since he says the real disputes lie elsewhere.
"They are going to discuss -- I think for the 10th or 20th time -- the same issue without [any] result. Because Turkmenistan and Iran want better access [to the Caspian Sea]," Djalili says. "There is rapprochement between the two countries about the future of the juridical [state] of the Caspian Sea, but the problem is not between Turkmenistan and Iran. [The problem is] between Iran and Azerbaijan."
Azerbaijani and Iranian oil-field claims overlap in the Caspian, and there have been incidents of Iranian patrol boats opening fire on Azerbaijani vessels trying to do exploratory work in the disputed region.
Ahmadinejad and Niyazov were expected to convene a session of the Iran-Turkmen Joint Economic Commission during the visit. They should also inaugurate a border terminal in the Bajiguran-Houdan region, near the capital, to facilitate trade, Iran's IRNA news agency reported on July 23.
Djalili says Ahmadinejad's visit should be seen in the context of Iran's effort to avoid international isolation over its disputed nuclear program.
The Iranian president is expected to cap his Central Asian tour with a visit to Tajikistan later this week. Some observers say Ahmadinejad's insistence on making the trip -- amid the Lebanese crisis and the nuclear standoff -- highlight the importance that the Iranian administration attaches to Central Asia.
Avoiding International Isolation
Avoiding International Isolation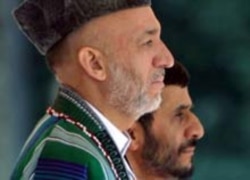 Afghan President Hamid Karzai (left) with Iranian President Mahmud Ahmadinejad in Tehran on May 27 (epa)
DIPLOMATIC OFFENSIVE:
As the United States and the European Union increase pressure on Iran regarding its nuclear program, Tehran has launched a wide-ranging and ambitious diplomatic offensive, including high-level state visits with countries including China, Indonesia, Afghanistan, Azerbaijan, and Pakistan. In May, Iranian President Mahmud Ahmadinejad participated in a high-profile
summit of the so-called Developing 8 (D8) group
of countries in Bali. Below are some links to RFE/RL's coverage of Iran's efforts to boost international support for its position.
Tehran's Shanghai Plans Seen As Bold Geopolitical Stroke
Nonaligned Movement Expresses Support For Iran
Afghan, Iranian Presidents Tout Strong Historical Ties
Iranian Foreign Minister In Pakistan For Energy Talks
Iranian Foreign Minister Visits Baghdad
ARCHIVE
To view all of RFE/RL's coverage of Iran, click here.

THE COMPLETE STORY: RFE/RL's complete coverage of controversy surrounding Iran's nuclear program.