Six Killed In Iraqi Bomb Attacks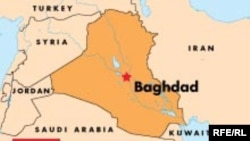 (RFE/RL) July 24, 2006 -- Two suicide car bombings in Iraq today killed at least six Iraqis and wounded some 20 others.
In the northern city of Mosul, an attacker drove an explosives-packed car into an Iraqi unit driving behind a U.S. military patrol and detonated his bomb, killing five Iraqi troops.
Earlier, a suicide bomber targeted police in the southern city of Samarra, killing himself and a male bystander.
(AP, AFP)