Bosnian Serb Pleads Not Guilty To War Crimes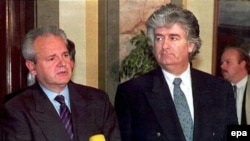 Yugoslav President Slobodan Milosevic (left) with the wartime leader of the Bosnian Serbs, Radovan Karadzic, pictured in 1994 (epa) July 25, 2006 -- A former justice minister in the Bosnian Serb wartime government has pleaded not guilty to war crimes charges in a Sarajevo court.
Momcilo Mladic, who served under the war crimes indictee Radovan Karadzic, was in charge of correctional facilities in Serbian-controlled Bosnia during the war.
Court officials say the buildings had "all the elements of a camp where many non-Serb civilians were illegally imprisoned."
(AP)