Giorgi Arveladze, the head of the presidential administration, said Emzar Kvitsiani and his militia must surrender their weapons or else they will be "liquidated."
Georgia sealed off the gorge , part of which lies in the breakaway region of Abkhazia, earlier this week after Kvitsiani, a former presidential envoy, said his illegal militia will fight if the government used force to disarm it.
Georgian Prime Minister Zurab Noghaideli, on a visit to NATO headquarters in Brussels, said Georgia was carrying out what he described as a "very limited police operation" in Kodori to capture Kvitsiani.
Both Abkhazia's separatist authorities and Russia, which keeps a contingent of peacekeepers in the region, have warned a military operation in Kodori could spark a wider conflict.
Giorgi Arveladze, the chief of President Mikheil Saakashvili's administration, said the operation would be over in a matter of hours. The independent television station Rustavi 2 reported that Georgian authorities had given Kvitsiani and his supporters hours to surrender.
Arveladze also said two police officers were wounded but that their lives were not in danger.
Earlier in the day, Foreign Minister Gela Bezhuashvili "categorically" denied "any possibility of a military operation in the zone," adding that "there is no heavy military equipment whatsoever in the zone and we are not going to bring it."
(Interfax, Reuters, Rustavi 2, Novosti-Gruziya)
Universal Principles?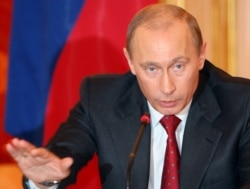 President Putin at a Kremlin meeting in April (epa)
PUTIN SPEAKS OUT: During a January press conference, Russian President Vladimir Putin said there is a need for "universal principles" to settle "frozen" conflicts in the CIS. His comments came against the background of impending talks on the future status of Kosovo, which many predict will grant it a form of "conditional independence" from Serbia and Montenegro. As an ally of Serbia, Moscow has consistently opposed the idea of Kosovar independence. Putin's remarks suggest he may be shifting his position, but only if the principles applied to Kosovo are also applied to frozen conflicts in the former Soviet Union. If Kosovo can be granted full independence, he asked, why should we deny the same to Abkhazia and South Ossetia? (more)
RELATED ARTICLES
Putin Calls For 'Universal Principles' To Settle Frozen Conflicts
Russia Key To OSCE's Attempts To Resolve Frozen Conflicts
Georgia Pushes For EU Backing In Standoffs With Russia
ARCHIVE
Click here to view archives of RFE/RL's coverage of the conflicts in Abkhazia, Chechnya, Kosovo, Nagorno-Karabakh, Ossetia, and Transdniester.