Russian Satellite Booster Crashes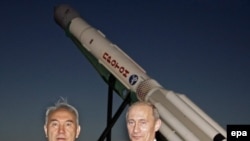 Russian President Vladimir Putin (right) visited Baikonur in June (epa) July 27, 2006 -- A Russian rocket carrying 18 satellites has crashed back down to Earth shortly after liftoff.
The Dnepr rocket, which took off from the Baikonur Cosmodrome in Kazakhstan, was carrying what would have been Belarus's first ever satellite.
Belarusian President Alyaksandr Lukashenka was at Baikonur to witness the launch.
(AP, AFP, ITAR-TASS, Interfax)


UPDATED CONSTANTLY: Visit RFE/RL's Russian-language website, featuring news, analysis, features, streaming audio, and more, in Russian, from RFE/RL's Russian Service.
ARCHIVE
RFE/RL's English-language
coverage of Russia
.