Russia Launches Three Satellites From Baikonur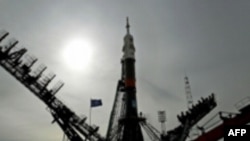 The Baikonur space center in Kazakhstan (file photo) (AFP) 25 December 2005 -- A Russian Proton-K rocket blasted off from the Baikonur space center in Kazakhstan today carrying three navigation satellites.
Space officials said the satellites are to join Russia's Global Navigation Satellite System. GLONASS is the equivalent of the U.S. Global Positioning System, or GPS.
When the three satellites are placed in orbit, Russia will have 17 GLONASS satellites operating.
(AFP/AP)
RFE/RL's World: 2005 In Pictures


A slideshow of images related to the top news stories of 2005 from throughout RFE/RL's broadcast region with links to RFE/RL's reporting.
See also:
2005 In Review: Central Asia Witnesses Revolution, Continued Crackdown
2005 In Review: Does The Presence Of Western Election Observers Make A Difference?
2005 In Review: The Geopolitical Game In Central Asia
2005 In Review: Migrants, Refugees Victims Of Incoherent Laws In Post-Soviet States
2005 In Review: The Transformation Of Television In Russia
2005 In Review: Russia's Centralization Gathers Pace
2005 In Review: A Year Of Hopes, Disappointments For Afghans And Iraqis