Russia Postpones Launch Of U.S. Communications Satellite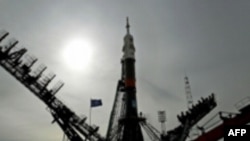 Baikonur Cosmodrome, Kazakhstan (AFP) 6 December 2005 -- Russia's space agency today postponed indefinitely the launch of a U.S. communications satellite, citing a flaw in the Russian booster rocket.
The Proton-M rocket was due to lift off from the Baikonur Cosmodrome in Kazakhstan.
Russia's Federal Space Agency hopes to reschedule the launch for later in December following repairs to a set of control equipment in the booster rocket.
The booster was built by the Khrunichev space firm. A similar failure of a Khrunichev booster rocket was blamed for the loss in October of a 120 million euro ($141 million) satellite belonging to the European Space Agency.
Russia has aimed to earn foreign cash by launching foreign commercial satellites.
(AP)