There have also been reports that Israeli jets destroyed communications masts north of Beirut today.
The Israeli Army says nine of its soldiers were killed on July 26 in fighting with Hizballah militants close to the key Lebanese border town of Bint Jbeil -- its deadliest loss since fighting began.
It also said some 20 of its soldiers in southern Lebanon were wounded in the fighting.
An Israeli general has said the fighting will continue for several more weeks.
In Gaza, Palestinian hospital officials say at least 14 Palestinians were killed in Israeli attacks.
Hizballah guerrillas fired more than 125 rockets into northern Israel today wounding scores of people according to medics and witnesses.
(AFP, Reuters, AP)
Iran, Syria, And Hizballah
Iran, Syria, And Hizballah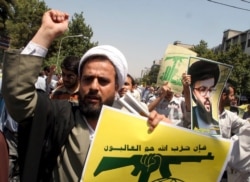 Iranians demonstrating in support of Hizballah in Tehran on July 17 (epa)

'FOR THE SAKE OF LEBANON': The Islamic Republic of Iran has served as an ideological inspiration for Hizballah since the Lebanese militant group's creation in 1982, and Tehran acknowledges that it supports the organization morally and politically. "Yes, we are friends of Syria and Iran" Hizballah leader Hassan Nasrallah has said. "For 24 years we benefited from our friendship with Syria and Iran for the sake of Lebanon...." (more)
RELATED ARTICLES
Tehran Playing Key Role In Israel-Lebanon Crisis
Iran, Hizballah Brush Off U.S. Terrorism Label
Intifada Conference In Tehran Has Multiple Objectives
UN Resolution Rankles Syria, Hizballah, Iran
ARCHIVE
RFE/RL
coverage of Iran
. RFE/RL web special on
Iran's nuclear program
.
SUBSCRIBE
For weekly news and analysis on Iran by e-mail,
subscribe to "RFE/RL Iran Report."