China Wants Albania To Hand Over Uyghurs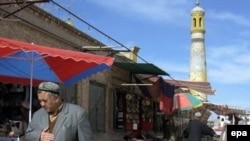 Uyghurs in the city of Kashgar in the Chinese province of Xinjiang (epa) July 28, 2006 -- China's Foreign Ministry said today it wants Albania to hand over five ethnic Uyghurs suspected of terrorism in China.
The five Uyghurs, Turkic Muslims from northwestern China, were released recently from the U.S. detention facility at Guantanamo Bay and granted asylum in Albania.
China says the five belong to a group the United Nations recognizes as a terrorist organization.
(AFP)