Russian Truckmaker To Open Plant In Iran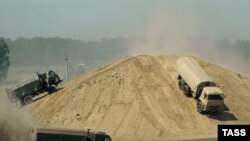 Kamaz trucks go through their paces at an exhibition in Omsk in 2005 (ITAR-TASS) July 29, 2006 -- The deputy director of Kamaz, the Russian truckmaking firm, says the company is ready to open an assembly plant in Iran next month.
Irek Gumerov says the plant should reach its full capacity -- 1,500 trucks per year -- within the next two years.
Kamaz already has assembly lines in Azerbaijan, Ethiopia, Kazakhstan, Poland, Ukraine, and Vietnam.
(AFP, Interfax)