Prosecution To Appeal Sentence Of Bosnian Muslim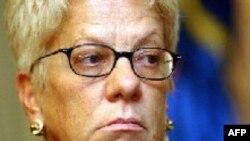 UN chief prosecutor Carla Del Ponte (file photo) (AFP) July 31, 2006 -- The prosecution of the UN war crimes tribunal in The Hague says it will formally appeal a two-year sentence handed down to a former Bosnian-Muslim commander at the Srebrenica enclave in the Bosnian war of 1992-95.
Naser Oric was sentenced on June 30.
The prosecution had originally called for an 18-year sentence for Oric, who was charged with failing to prevent the murder and cruel treatment of ethnic Serb prisoners.
On July 30, a spokesman for chief prosecutor Carla Del Ponte said her office was disappointed with the sentence.
Serbian Prime Minister Vojislav Kostunica and the Serbian media have denounced the sentence as a mockery of justice and proof that the Hague tribunal is biased against Serbia.
(compiled from agency reports)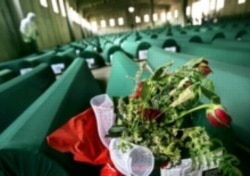 Coffins of Srebrenica victims being prepared for burial in October (AFP)

THE WORST ATROCITY IN EUROPE SINCE WORLD WAR II: The July 1995 massacre of some 7,000 Muslim men and boys by Bosnian Serb fighters near the UN-designated safe haven of Srebrenica is the worst atrocity of its kind in Europe since the end of World War II. Since the incident, the name Srebrenica has become practically synonomous with ethnic cleansing....(more)
See also:
Coming To Grips With The UN's Failure At Srebrenica
Child Of Srebrenica Returns Home For Anniversary Of Massacre