RFE/RL:
Ukrainian Ambassador to the United States Oleh Shamshur greeted everyone in June 2006 with the announcement of an 'Orange coalition' that was to form a new government. Today, the Orange coalition is nonexistent and there is no government. Does Washington have any trust left in Ukrainian politicians?
Steven Pifer:
I can't speak for the U.S. government on this, but I don't think it really undermines the confidence in that sense. I mean, politics are very complex. Certainly a month when Shamshur spoke I think it was the expectation of everyone, based on the information at the time, that there would, in fact, be an 'Orange coalition' in the [Verkhovna] Rada. As far as I can tell, pretty much everybody -- both in Ukraine and the United States -- was surprised by Mr. [Socialist Party leader Oleksandr] Moroz's decision to defect [from the Orange coalition] and join with the Regions Party and the Communists.
RFE/RL:
But many analysts claim that the main responsibility for the splintering of the Orange coalition lies with President Victor Yushchenko.
Pifer:
Clearly now, if you look at the choices that President Yushchenko and Our Ukraine had after the March 26 elections -- where at that point I think it really was in the president's hands to decide whether he would have an 'Orange coalition' or whether he would join with Regions Party -- certainly, the wavering by Our Ukraine and its inability to move quickly in March, April, and May has led to a situation now where they face a different, and a much less attractive set of choices.
RFE/RL:
In a recent article, Carnegie Endowment for International Peace analyst Anatole Lieven characterized the collapse of the Orange Revolution as a geopolitical defeat for the Unites States. Do you agree with such an assessment?
Pifer:
I think that geopolitical view is not the way that Washington looks at Ukraine. That's almost suggesting that Ukraine is an object of competition between the West and Russia. And certainly when I was in the U.S. government, people were not looking at Ukraine in those terms. What people saw the Orange Revolution about was the Ukrainian people really making a decisive break with the past -- where they actually took control of their own political destiny. And that's why it was such a moving thing that got so much attention in the West. Now, certainly there's been frustrations and disappointments in what has happened since the Orange Revolution. But I'm not sure at this point, if you are saying there has been now a huge geopolitical switch -- I think it is premature to come to that conclusion.
Certainly, I think that the millions of Ukrainians who went out and protested against the effort to steal the elections in 2004. They still are politically empowered in a way that was not the case prior to 2004. That is a powerful force, and I don't think the political maneuverings are ever going to change that.
RFE/RL:
But two participants of the so-called anti-crisis coalition -- the Communists and the Party of Regions -- conducted their election campaign on an anti-American and anti-NATO platform. If they do in fact form a government, are they likely to maintain Ukraine's current foreign-policy course?
Pifer:
Now, the question that comes now -- yes, you are going to have presumably with the 'anti-crisis' coalition, if it is affecting the choice of the prime minister and the cabinet, you may have a different policy course, but I think people are going to wait and see, you know, how different is that policy?
First of all, you've seen from President Yushchenko and Foreign Minister [Borys] Tarasyuk their view that Ukraine should continue to pursue a Euro-Atlantic course. Second, it's not totally clear yet what policies that -- if Mr. Yanukovych becomes prime minister -- what policies he would pursue. For example, when he was prime minister in 2002, 2003, 2004 -- at that point he supported the Ukrainian policy of trying to join NATO and trying to join Europe. I think there are elements in the Regions Party, who, while they may not be enthusiastic about joining NATO, would like to see Ukraine draw closer to the European Union. So, I think it's a bit simplistic to conclude that, as a result of the political developments, Ukraine is going to veer off in a totally different direction.
RFE/RL:
So you don't expect any deterioration in U.S.-Ukrainian relations if Yanukovych becomes prime minister and the Party of Regions becomes the basis of a new government?
Pifer:
The point will be, and this I think is going to be something important, is that if Mr. Yanukovych becomes prime minister it will have been the result of an essentially democratic process, and the U.S. government looks at presidents and prime ministers who come to position as the result of a democratic process in a very different way than those who don't. And, I think, U.S. officials have said they would be prepared to work with whatever government comes out of this process. So, I don't think you have an instinctive U.S. government bias against working with Mr. Yanukovych.
Ukraine's Choice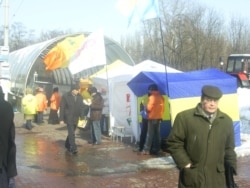 Campaign stands on a Kyiv street in ahead of the March 26 elections (RFE/RL)


RELOADED DEMOCRACY: On March 16, Ukrainian Ambassador to the United States OLEH SHAMSHUR held a briefing at RFE/RL's Washington office. Shamshur discussed the political and economic achievements of the last year and the political environment in the run-up to the legislative elections. "Many people would say it was a year lost," he said. "And I would categorically, even definitely, object to that. I think that it was a year not lost; it was a difficult year; it was the learning period when we were learning, or in some instances, relearning to act under the democratic rules and procedures. Some mistakes which were made were avoidable, some were hardly avoidable, but in any case it was very important period for Ukraine as a country, Ukraine as a new, or if you wish, rediscovered, reloaded democracy."
Listen to the complete presentation (about 60 minutes):
Real Audio Windows Media



Click on the image for background and archived articles about Ukraine's March 26 elections.




Click on the image to see RFE/RL's coverage of the Ukrainian elections in Ukrainian.