Ukraine has passed countless such deadlines in the four months of political paralysis that have followed the country's March 26 elections, and it remains unclear if this time will be any different.
Ukraine's pro-Russia parliamentary majority began the week with confident predictions that the country would have a working government by August 2. But just a day before the deadline, it is still unclear what will happen in Ukraine.
Losing Popular Credibility
It's a situation that has left many ordinary citizens exasperated.
"Everybody, absolutely all of the Ukrainian people, are sick and tired of this [situation]," one man told RFE/RL. "Our government and Yushchenko have allowed such chaos that now they can't do anything properly, they can't divide [their] power. They are not fighting to improve the life of the people; they are fighting for posts in which they will be able to rob [the people]. This is what they are fighting for."
"They are not fighting to improve the life of the people; they are
fighting for posts in which they will be able to rob [the people]."
It's a fight, it seems, that will continue until the bitter end.
Yushchenko, for his part, is looking at the unpalatable option of approving his main political rival, Viktor Yanukovych, as prime minister.
It's a deal he might be able to tolerate if he can keep his pro-Western policies on the agenda of a grand coalition that includes his Our Ukraine bloc.
Yushchenko would also like to see Our Ukraine lawmakers hold a number of key cabinet posts. The constitution grants the president the right to name appointees to key ministerial posts, including defense and foreign affairs.
But Yushchenko is eager to see Our Ukraine hold even more posts.
The Ukrainian president's popularity, however, is shrinking rapidly. Many politicians and ordinary Ukrainians say he has turned his back on the values of the Orange Revolution that brought him to power in 2004.
Rock And A Hard Place
So, with little in the way of leverage, Yushchenko is spending the day brandishing his most powerful weapon: the threat to dissolve parliament and call for fresh elections.
Viktor Yanukovych has said he can work with Yushchenko (Ukrinform, file photo)The Ukrainian leader is meeting today with parliamentary faction leaders to discuss the possibility. The president has the legal right to dissolve parliament for failing to form a government within a prescribed term.
Few believe he will carry out his threat. Our Ukraine would likely fare poorly in a fresh election, leaving Yushchenko even weaker than he is now.
But that hasn't stopped majority lawmakers from countering with threats of their own.
Taras Chornovil of Yanukovych's Party of Regions today called for Yushchenko to be impeached if he calls for new elections.
"As of today, it is only my personal position," he said. "But if the president violates the constitution, this will be subject to serious consideration by the [Party of Regions] caucus. I have simply expressed my opinion -- but this opinion may become an official stance."
Ukraine currently has no established procedure for impeachment. Chornovil's threat, like Yushchenko's, is likely more about rhetoric and less about reality.
Signs Of Cooperation
Behind the heated words, there are signs of cooperation.
Yushchenko's office said today the parliamentary majority had drafted a national-unity agreement with Our Ukraine. The draft has been submitted to the president, Verkhovna Rada speaker Oleksandr Moroz, and parliamentary faction leaders for consideration.
There are few details about the terms of the agreement or how it deals with points of contention like Yushchenko's drive for Ukraine to join NATO and the European Union.
But the deal could pave the way for Yushchenko's bloc to join the new coalition rather than languish in the opposition.
Some observers worry that Ukraine's four-month political impasse has cost the country dearly in terms of international esteem and support.
Others, however, see a bright side. One Ukrainian business magazine, noting the country's crisp growth in gross domestic product this year, suggests that "when politicians are only busy amongst themselves...the economy functions well."
(RFE/RL's Ukrainian Service, news agencies)
Torn Between East And West
Torn Between East And West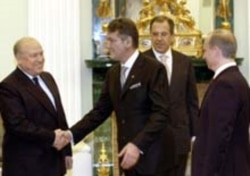 Yushchenko (center) with Russian Ambassador to Ukraine Viktor Chernomyrdin (left), Russian Foreign Minister Sergei Lavrov (rear), and Russian President Vladimir Putin (AFP file photo)
IN WHOSE ORBIT? Just over a year ago, tens of thousands of Ukrainians led an extended public uprising that toppled the country's entrenched, pro-Russia regime. But the country remains deeply divided between the east, where ethnic Russians look toward Moscow, and the west, which yearns for deeper integration with Europe. Can Ukraine elect a legislature that represents this torn country? (more)
See also:
Moscow Silent In The Run-Up To Ukraine's Elections
Is Kyiv On Stable Path Toward Integration With World Economy?
Western Neighbors Keen To Help Transition To Democracy

Click on the image for background and archived articles about Ukraine's March 26 elections.




Click on the image to see RFE/RL's coverage of the Ukrainian elections in Ukrainian.