PRAGUE, August 4, 2006 (RFE/RL) -- A close associate of Russian tycoon Boris Berezovsky has claimed that Ukrainian parliament speaker Oleksander Moroz plotted with Mikhail Fridman, the head of Alfa Group, to kill Ukrainian journalist Heorhiy Gongadze in September 2000.
The claim was made by Alex Goldfarb, chairman of the Civil Liberties Fund, an organization sponsored by Berezovsky, who now lives in London.
Speaking at a press conference in Kyiv on August 1, Goldfarb distributed the text of an affidavit by an unnamed U.S. citizen, in which that person claims that Moroz, a member of parliament in September 2000, met with Fridman and a number of suspected Russian criminal bosses from the "Izmailovskaya" gang in Moscow to plan Gongadze's killing.
Gongadze, an investigative journalist whose articles often targeted the administration of former President Leonid Kuchma, disappeared in September 2000, and his decapitated body was discovered in a forest near Kyiv shortly thereafter.
"It is strange that I am not being accused of attempting to murder the U.S. president in Tbilisi, of murdering Leo Trotsky, and of attempting to rob Fort Knox."
Two of the three men arrested in killing Gongadze pleaded guilty to the crime in February 2006, but did not name the person who ordered the killing. They said they acted at the behest of their superior, Interior Ministry General Oleksiy Pukach, who is wanted by Ukrainian law-enforcement agencies.
Goldfarb provided little evidence for the latest accusations, saying he gave copies of the affidavit to Ukraine's Prosecutor-General's Office.
According to Goldfarb's unnamed witness, Moroz is alleged to have promised the Alfa Group lucrative projects in energy if he were to be elected president of Ukraine. At this time the witness alleges Moroz was in possession of tape recordings claimed to have been secretly made in Kuchma's office by a member of the president's security detail, Mykola Melnychenko.
In the "Melnychenko tapes" Gongadze's name is mentioned a number of times by a voice purported to be Kuchma's. The president appears to be ordering Gongadze's killing, saying: "Drive him out! Throw him out! Give him to the Chechens!"
Kuchma has admitted that his voice is on the tapes, but claims they were doctored. He denies the charges that he ordered Gongadze's killing.
In the witness's version of events, Moroz wanted Gongadze killed so that he could discredit Kuchma by blaming the killing on him and be elected.
The latest claims do not mark the first time such allegations have surfaced. Robert Levinson, a retired FBI agent who investigated the killing for an unnamed private client, claimed in August 2002 in a letter made available to RFE/RL that Gongadze was murdered by a local group of assassins under the direction of Vladimir Kiselyov, reputed to be one of the more powerful criminal authorities in Kyiv. Kiselyov was allegedly hired to do the job by leaders of the Izmailovskaya organized crime gang, which in turn was commissioned by the Alfa Group and Moroz to kill Gongadze.
When Levinson's version of events was made public, Moroz denied any role in the murder and said the theory was being circulated by Kuchma supporters to compromise him.
An Act Of 'Revenge'
Fridman has denied the allegations. In a statement, he said: "It is strange that I am not being accused of attempting to murder the U.S. president in Tbilisi [a reference to an assassination attempt against President George W. Bush during his visit to Tbilisi in May 2005], of murdering Leo Trotsky, and of attempting to rob Fort Knox."
Moroz has been unavailable for comment.
On August 1, "Ukrayinska pravda" reported that the Prosecutor-General's Office issued a press release in which it stated that the affidavit it had received from Goldfarb did not contain any verifiable evidence linking Moroz to the murder.
The recent political deadlock in Ukraine provides the backdrop to the recent flurry of accusations and counteraccusations.
A member of the Socialist Party, Mykola Rudkovsky, was quoted by "Ukrayinska pravda" on August 1 as saying that Goldfarb's accusation was possibly an act of "revenge" by the Yuliya Tymoshenko Bloc to punish Moroz for destroying her chances of becoming prime minister.
Tymoshenko has often been accused of maintaining close ties with Berezovsky, and was instrumental in helping to arrange meetings between Yushchenko supporters and Berezovsky during the 2004 presidential election campaign.
The Gongadze Case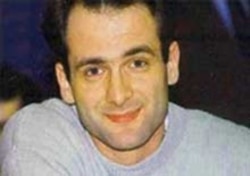 Heorhiy Gongadze was neither the first nor the last journalist to be killed in Ukraine, but it is his death that has become synonymous with the pressure exerted on journalists by the administration of former President Leonid Kuchma. Within weeks of his death, secretly recorded tapes emerged that implicated Kuchma in Gongadze's death. Kuchma has always denied any involvement, but the twists and turns of the protracted investigation -- and its failure to produce results -- merely fueled the speculation. The demonstrations triggered by Gongadze's death galvanized opposition to the Kuchma administration.
President Viktor Yushchenko, prime minister at the time of Gongadze's death and leader of the Orange Revolution, has said that resolving the Gongadze case is a "matter of honor." The journalist's alleged killers are now on trial in Kyiv. But a trail of deaths, including one since the Orange Revolution, raise doubts about whether it will ever be certain who ordered Gongadze's murder.
For a timeline of the Gongadze case, click here.