The United States imposed sanctions on Rosoboroneksport, Russian jetmaker Sukhoi, and five other companies from India, North Korea, and Cuba, for selling material to Iran it says could be used for making weapons of mass destruction.
Under the sanctions, the U.S. government is prohibited from dealing with any of those seven companies.
In a statement, Rosoboroneksport said its cooperation with Iran "is carried out strictly in accordance with international agreements and is limited exclusively to supplies of defensive armaments." General Director Sergei Chemizov said the sanctions will not affect his company since it has no contracts with the United States.
Russian Defense Minister Sergei Ivanov criticized the sanctions in comments today to reporters in St. Petersburg. "Regarding the sanctions imposed by the [U.S.] State Department on Rosoboroneksport and the Sukhoi company, I can unambiguously say just one thing: These sanctions don't have the slightest relation to the nonproliferation issue."
The Russian Foreign Ministry has also criticized the sanctions, calling them unacceptable.
(AFP, Reuters, ITAR-TASS)
Russian Arms Exports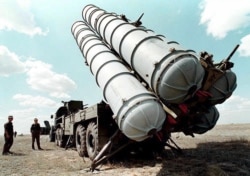 Russia's advanced S-300 air-defense system (epa file photo)

BOOM TIMES: In 2005, Russia sold more than $6 billion in weapons to more than 60 countries around the world. The state arms exporter says it has $17 billion in orders in hand....(more)
RELATED ARTICLES
Putin Pushes Greater Arms Exports
Energy, Weapons Bring Moscow Closer To Algiers
Will Russia's Oil Windfall Go To Military?
Putin Stresses Need For Strong Military
ARCHIVE
RFE/RL
coverage of Russia
. RFE/RL web special on
U.S.-Russian relations
.
SUBSCRIBE
For news and analysis on Russia by e-mail,
subscribe to "RFE/RL Russia Report."