Anton Shelupanov, a research associate at London's King's College who helped produce the report with its author, UN consultant Roy Walmsley, says one curious fact to emerge from the report is that two-thirds of the world's imprisoned women are in only four countries: the United States, China, Russia, and Thailand.
"Because of the high social costs of imprisoning women we thought
it was important to allow countries to look at how they compare."
"I think those four countries have a very high prison populations in general, and whilst China is an anomaly -- because even though it's got a high prison population, it's also got a very high overall population -- Russia and the U.S. -- and Thailand is included in that number, I guess -- have got very high imprisonment rates in society as well," he says.
Shelupanov says the United States has 183,000 female prisoners; China, 71,280; Russia, 55,400; and Thailand, 28,450. No other country has more than 15,000 women in prison.
The researcher says it is always a surprise when percentages of female prisoners are very high. For example, in Hong Kong 22 percent of all prisoners are women, which is very unusual. The average figure is usually somewhere between 2 and 9 percent for most countries.
High Rates In CIS
But Shelupanov says the results for former Soviet countries do not seem surprising. Similarly to Russia, most of them also have high rates of female imprisonment.
He notes that Russia's number "is quite high" at 6.5 percent, while the highest is Belarus, at 7.5 percent, "well above" the median.
While some former Soviet states have more typical numbers, like Azerbaijan, at just 1.4 percent, Ukraine is "quite high" at 6.1 percent. Shelupanov notes that many of the former Soviet states "have quite high percentages of female prisoners."
Shelupanov says that the CIS countries tend to keep quite comprehensive statistics on their criminal-justice situation in general. There are several African, South American, and South Asian countries missing on the list, because their figures do not seem to be reliable. The International Center for Prison Studies (ICPS) at King's College, however, has managed to get figures for all the countries of the former Soviet Union.
Russian Numbers Defy Reforms
As for Russia, Shelupanov says the figure is too high, considering that there has been a reform of the penal system that prevents many women from being imprisoned. "For example, if a woman has a very young child under the age of 14 and the crime is not very serious, then a sentence is suspended," he adds.
Shelupanov explains that by the time the child is 14, the conviction is usually quashed unless the woman reoffends. So, it's a little surprising that the figure is as high as it is in Russia.
As for the reliability of the statistics, Shelupanov stresses that the ICPS also publishes the "World Prison Population List." That report includes some 200 countries, and it's considered to be the most reliable collection of data in the world on this issue. So, he hopes, is the women's list.
High Social Cost
ICPS director Rob Allen says that following the publication of the prison list last year, focusing on female imprisonment seemed a natural next step.
"This year we have decided to focus particularly on women in prison, which is the first time that this has been done," Allen says. "But because of the high social costs of imprisoning women we thought it was important to allow countries to look at how they compare."
Allen says the report shows that the countries with a high imprisonment rate in society also seem to have a higher proportion of women in prison. And this is quite harmful to the societies involved, because of problems with the children of imprisoned women.
"When they are in prison, alternative arrangements need to be made for the care of those children," he notes. "Sometimes families can do that, in other cases the state has to make arrangements by arranging residential care or foster care. And in a lot of countries the prospect for children in those situations is not good."
Allen concludes that these women need alternative treatment through mental-health or drug-treatment facilities. And he stresses that this information should prompt governments to look at the range of other ways of dealing with women who commit crimes, other than imprisonment.
Women In Iran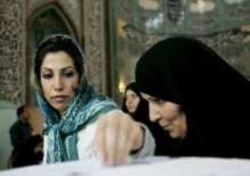 Women in Tehran (epa file photo)

CALLING FOR MORE RIGHTS: Although women played key roles in Iran's 1979 Islamic Revolution, the place of women in post-revolutionary society has been a vexing question. Iranian women have struggled to bring attention to their calls for greater rights in their country's rigid theocratic system, calls that have often clashed with the values proclaimed by conservatives in society. (more)
RELATED ARTICLES
Tehran Police Renew Campaign To Combat 'Un-Islamic' Dress
Iranian Peace Prize Laureate Shirin Ebadi On Women's Rights
Activists Concerned About Self-Immolation Of Iranian-Kurdish Women
The Younger Generation's 'Tehran Blues'
ARCHIVE
RFE/RL's coverage of Iran. RFE/RL's coverage of issues concerning women throughout our broadcast area.

SUBSCRIBE
For a regular review of civil-society developments throughout RFE/RL's broadcast region, subscribe to "RFE/RL (Un)Civil Societies."