Until recently, Kurdish towns and cities were not affected by the endemic fuel and electricity shortages that have plagued much of the rest of Iraq since the fall of the Hussein regime in 2003. That changed several months ago, prompting Kurds to begin staging organized demonstrations demanding government action.
Many Kurds have been quick to blame what they see as the indifference of the ruling parties, the Patriotic Union of Kurdistan (PUK) and the Kurdistan Democratic Party (KDP), saying those in power are unaffected by the shortages because of their wealth and connections.
Dividing Up Power
While demonstrators have attempted to hold the government accountable, some say there is little that can be done to effect change. As the two main ruling parties, the KDP and PUK solidified their hold on power during their 12 years of self-rule before the fall of the Hussein regime. In the post-Hussein era, officials tied to the parties have grown wealthier and in some cases, more flagrant in their abuse of power, critics charge.
Democracy in the Kurdish north, once touted as the model to be emulated, suffered a setback in January 2005 when the KDP and PUK
divided up parliament seats
ahead of the local parliamentary elections.
The continued widespread perception among the public that officials care less about their needs and more about lining their own pockets with lucrative business deals and other profitable endeavors has only exacerbated the divide between the people and their representatives.
Moreover, it has fueled a growing perception that only those with close ties to the ruling parties will reap the benefits of a decent education or career advancement based on credentials, rather than connections. Such frustration, observers argue, could lead to a massive brain drain from the region.
As kurdishmedia.com reported on August 3, waves of young, educated Kurds have begun leaving the region for the West. The disillusionment of the youth, the website noted, has led them to believe that positive changes will not come their way.
Spreading Demonstrations
The latest demonstrations began on August 5 in Kifri, southwest of Al-Sulaymaniyah, and led to the arrest of 20 demonstrators. According to the Peyamner news agency, police began arresting the organizers of the demonstration after footage from the protest was broadcast on local television channels.
Demonstrators later staged a second demonstration outside the local administrative office to demand the release of their cohorts.
Other demonstrations then spread over the next two days to Chamchamal, Darbandikhan, and Shorish (Al-Sulaymaniyah). The Kurdish news agency Sot Kurdistan (Voice of Kurdistan) reported on August 7 that more demonstrations were being planned for Aqrah, Halabjah, Irbil, Kalar, Soran, and Al-Sulaymaniyah.
More than 2,000 protesters took part in the August 7 demonstration in Darbandikhan, Peyamner reported. According to the news agency, Kurdish police and security forces confiscated the camera of a journalist working for Zagros TV. "Only [PUK-owned] KurdSat TV and Aindah TV of [the] Garmiyan area were allowed to film," Peyamner reported.
The news agency also reported that independent journalist Amjad As'ad was arrested after he was caught filming the demonstration on his mobile phone. "Hawlati" reported that two of its journalists were also arrested.
Kurdistan Satellite Television, which is operated by the KDP, reported that journalists' cameras were confiscated.
According to "Awene," more than 50 demonstrators were arrested, and 11 injured, one critically.
Journalists Fight for Greater Freedoms
Kurdish journalists have accused the government of using a corrupt judicial system to "terrorize writers," as one journalist described it, after a series of arrests and trials earlier this year. "If we look at the court cases against writers and journalists in recent weeks and months, we see that none of the verdicts has been in favor of a journalist or writer. On the contrary, in all the cases, the officials have been the heroes.... This is a new trend in the officials' fights against writers and the continuation of the police...preventing people from holding pens," Sarwat Ali wrote in the May 30 edition of "Awene."
Kurdish intellectual Kamal Sayyid Qadir was jailed by the KDP last year for Internet articles he wrote criticizing Kurdish region President Mas'ud Barzani's administration. He was sentenced in December to 30 years in prison for "defamation of the Kurdish leadership." That sentence was thrown out and Qadir was sentenced at a new trial in March to 18 months in prison. One week later, regional Prime Minister Nechirvan Barzani pardoned Qadir. Whether Qadir would have received a retrial, let alone a pardon, had there not been intense publicity surrounding his case is difficult to say.
At the local level, independent newspapers such as "Hawlati" have gone to great lengths to criticize the ruling parties in recent months, though not without repercussions. Two of the newspaper's editors were put on trial earlier this year on charges of defaming PUK leader Umar Fattah. The two men received suspended six-month prison terms. As in Qadir's case, the sentences would likely have been much harsher had there not been an intense international media campaign in their support.
Despite the crackdown on journalists in recent months, a number of independent newspapers and Kurdish websites have continued to highlight the restrictions placed on the media. Kurdish websites based abroad have proven invaluable to the campaign for greater press freedoms.
Growing Public Dissatisfaction
Recent examples of editorials marking the pages of Iraqi newspapers include a July 26 editorial published in "Hawlati," which pleaded with the region's ministers to "just once" try working as a traffic policeman, whose commands go ignored by officials in new cars who hurl trash at the officers; or teach in a sweltering classroom where there are no supplies or electricity. Try giving a lecture "on the sixth floor of a building without lifts or power. After that, make some notes about the resilient teachers and their salaries," the author wrote, referring to recent demands by academic and medical unions for salary increases.
Local media have also been quick to criticize the government for regularly claiming that demonstrations are carried out by "foreigners" or "saboteurs and rioters," rather than admit that public dissatisfaction is running deep these days. One example of this was the two parties' reactions to demonstrations that erupted in Halabjah this spring, which they blamed on foreigners. Dozens of
protesters and members of the media
were arrested.
In an editorial published in "Hawlati" on August 2, the newspaper claimed the Kurdish regional government, "from the day it began working, did not fulfill" its duty to provide for the people's basic needs. "There are lots of cars, but very bad roads. There are lots of electricity poles, towers, and cables, but no electricity. There is fertile land, but agriculture is destroyed."
Though public criticism has been met with stiff reaction from the government, Kurds continue to push for their rights and freedoms. The government's realization that it will be held accountable for its actions, or inactions, by a vibrant Kurdish press has led it to reconsider its response to public criticism.
For his part, Kurdish Deputy Prime Minister Umar Fattah met with demonstrators from Shorish and Chamchamal on August 8 to discuss their grievances, the PUK's website announced the same day. Fattah vowed to look into their demands and said steps would be taken to improve basic services. At least for now, it appears that demonstrators' hopes for a more democratic Kurdistan may still be within reach.
Iraq's Kurdish Region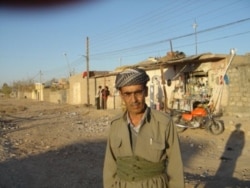 KURDISH AWAKENING: The ethnic Kurdish region in the northern part of Iraq has struggled in recent years to reestablish its cultural and political identity after decades of oppression under the regime of deposed Iraqi President Saddam Hussein. In December, RFE/RL correspondent Charles Recknagel traveled to this area and filed several reports:
Relative Peace Underscores Issue Of Kurdish Region's Future
Kurdish Culture Begins To Flourish In Kurdistan Region
Kurds Ponder How To Strengthen Autonomy After Elections