IAEA Removes Soviet-Era Uranium From Poland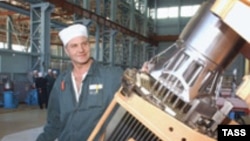 Nuclear fuel for the Bushehr nuclear power plant in Iran being processed in a plant in Novosibirsk (ITAR-TASS) August 10, 2006 -- The United Nation's nuclear agency says it has safely removed a sizable quantity of Soviet-era highly enriched uranium from a facility in Poland as part of an effort to secure nuclear materials worldwide.
The International Atomic Energy Agency says it removed 40 kilograms of the weapons-grade material on August 9 from Poland's only nuclear research center.
It has been sent for reprocessing to a facility near Novosibirsk in Russia.
(AP, BBC)