Former Bosnian President's Tomb Damaged In Blast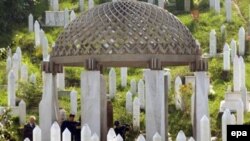 Policemen inspect the grave of the former Bosnian president and Bosnian Muslim leader Alija Izetbegovic after an explosion at the Kovaci cemetery in Sarajevo (epa) August 11, 2006 -- Police in Sarajevo say the tomb of former Bosnian President Alija Izetbegovic has been damaged in an explosion.
Police say it is not clear what caused the blast early this morning, at the Kovaci cemetery.
Izetbegovic was Bosnia's president after the country gained independence in the early 1990s. He died in 2003.
(Reuters, dpa)