PRAGUE, August 11, 2006 (RFE/RL) -- Behnam Kamrani was among the Iranian engineers, scientists, and company executives who traveled to the United States to attend a forum on disaster management and entrepreneurship in Santa Clara, California.
Kamrani is a Sharif University alumni who currently lives in Sweden and works for a U.S. company. He told Radio Farda that upon his arrival at Minneapolis airport, he was simply told his visa has been revoked.
"We had requested a visa, [and] the U.S. Embassy did a background check on us and gave a positive answer," Kamrani said. "They issued the visa, [and] we bought a ticket and informed them as to the date on which we would enter the U.S. Then, when we got to the U.S., everything collapsed. They temporarily detained and interrogated us and asked us strange questions."
Travel 'Nightmare'
Despite the nine hours that Kamrani spent at the airport before being sent back, he considers himself among the lucky ones.
Academics who had entered the United States at other ports of entry -- including Los Angeles and San Francisco -- appear to have faced tougher conditions. Some have described their experience as a "nightmare," and said that they had to spend the night in a jail alongside criminals.
Kamrani recalls meeting a few of them: "They had handcuffed them and taken them to a prison. One lady who had two daughters said they had separated them during the night. The ladies said that a man who was in charge had told them the next day -- when they were about to be sent back -- that the visas were canceled because it was thought likely that those who come from Iran might exchange information about the nuclear issue."
Some of the Iranians claim to have been told that their visas were revoked due to U.S. national security concerns. They were reportedly given the choice of withdrawing their applications or being deported.
Some said they were told that they could not apply for U.S. visas for up to 10 years.
Several of the detainees have said they were insulted and humiliated, and subjected to what they have described as a harsh treatment.
Official Silence
Conference organizers have said that more than 50 Iranians in all were refused entry and sent back to Iran.
U.S. State Department spokeswoman Janelle Hironimus declined to explain the refusals, saying only that "all visa applications are adjudicated in accordance with the U.S. Immigration And Nationality Act. Each application for a visa is adjudicated on a case-by-case basis."
State Department official Laura Tischler would not comment on specific cases to RFE/RL, but she noted that U.S. officials are obliged to turn away anyone whose visa has been revoked.
Tischler suggested that the Iranians' visas might have been revoked "when they arrived, or when they were in transit."
Caught In Diplomatic Crossfire?
Some observers speculate that the travelers are victims of growing U.S.-Iranian tensions over the current conflict in Lebanon and Iran's refusal to abandon sensitive nuclear activities.
Najmedin Meshkati, a graduate and professor at the University of Southern California's (USC) Viterbi School of Engineering and an alumni of Sharif University, told RFE/RL that the treatment the academics received at U.S. hands has outraged Iranian-Americans.
Meshkati said the U.S.-based Sharif University of Technology Association (SUTA) is taking steps to protest the incidents and encourage some investigation.
"One [step we'd like to take] concerns the legal aspect -- we want to find out what the rights of the people who were returned are and what can be done legally. The other [step] is public relations," Meshkati said. "The third step is to contact U.S. authorities -- including senators from California -- so the issue is investigated in the U.S. Congress. If they treat Iranians who visit this country legally in this heinous manner, then [there is a risk that] there is no difference for Iranians who live in this country legally. I really think that enough is enough -- we are really hurt about this disrespect. We should really stand up to it."
Meshkati said Iranians should not be punished for the policies of their government.
"I don't know why Iranians who travel to the U.S. must pay the price for the Iranian government's actions," he said. "Are Saudi citizens paying the price for the actions of [Saudi-born Al-Qaeda leader Osama] bin Laden? No. I don't understand why everything goes wrong when it comes to us Iranians."
The United States cut diplomatic ties with Iran following that country's Islamic Revolution and the abduction of U.S. diplomats at its embassy in Tehran in 1979.
But limited cultural, scientific, and sports exchanges have continued between the two countries.
(Radio Farda correspondent Elaheh Ravanshad contributed to this report from Sweden; RFE/RL correspondent Heather Maher contributed from Washington, DC.)
What Would Sanctions Mean?
What Would Sanctions Mean?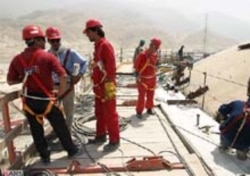 Economic sanctions could further undermine Iran's already shaky economy (Fars)


MOVING TOWARD SANCTIONS: If the United Nations Security Council imposes sanctions on Iran, domestic support for Iranian President Mahmud Ahmadinejad will wane, according to ALEX VATANKA, Eurasia editor for Jane's Information Group.
Vatanka told a February 24 RFE/RL briefing that "economic sanctions will hurt the average Iranian" and, consequently, many "will blame the ruling clerics" for making life difficult and "impairing the country's long term development."
Vatanka said sanctions would be a serious challenge to the Iranian government. If harsh economic sanctions were imposed, Iran's poorest population will be hurt the hardest -- and might react "as they did in the 1970s and protest in the streets." Sanctions on travel, Vatanka said, would hurt a many Iranians because "Iran is a nation of small traders" who depend on the ability to travel to earn an income. According to Vatanka, unemployment in Iran is estimated at 30 percent, "so small trading is essential to survival." Although current U.S. sanctions "haven't worked," he said, "Iranians fear an oil embargo." He stressed that "oil revenues are a major part of the economy, so it is critical to look at this sector."
Should negotiations with the European Union and the UN fail, Vatanka believes that Iran would follow a "North Korea model," since Ahmadinejad's base of support among the "Islamist militias" has been "urging withdrawal from the NPT [Nuclear Non-Proliferation Treaty]." The Iranian government's "tactic" so far, Vatanka said, is governed by the belief that "by shouting the loudest, you'll get concessions [from the West]."
LISTEN
Listen to the complete panel discussion (about 60 minutes):

Real Audio
Windows Media

THE COMPLETE STORY: RFE/RL's coverage of the controversy surrounding Iran's nuclear program.
CHRONOLOGY
An annotated timeline of Iran's nuclear program.