Kazakhstan Legalizes Nearly 6,500 Migrant Workers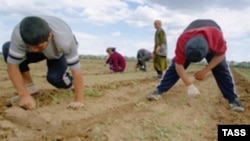 Illegal migrants from Tajikistan at work in a field in the Volgograd region of Russia (file photo) (ITAR-TASS) PRAGUE, August 11, 2006 (RFE/RL) -- Kazakhstan says it has legalized nearly 6,500 migrant workers from neighboring countries in the past 10 days.
Gazymbek Alpysbaev, a senior official in the Interior Ministry's administrative police department, said nearly 80 percent of the migrant workers are Uzbek nationals.
The others are Kyrgyz (772), Tajiks (245), and Russians (159). The remaining 286 hold other passports.
The Interior Ministry says it has launched a campaign to legalize migrant workers. The campaign, which began on August 1, will end on December 31.
The migrants legalized in the past 10 days live in the city of Almaty, in Almaty Region, and in Qizilorda Region.
(compiled with material from Kazinform)
RFE/RL Central Asia Report

SUBSCRIBE For regular news and analysis on all five Central Asian countries by e-mail,
subscribe to "RFE/RL Central Asia Report."