Amnesty International says in a statement that Faleh Abdullah al-Mansuri, Rasool Mezrea, Jamal Obeiwadi, and Taher Ali Mezrea are believed to be being held incommunicado at an unknown location in Iran, and may be at risk of torture.
The four were arrested by political security officers in Damascus on May 11.
Amnesty International says most of them are said to have UN refugee status and that one -- al-Mansuri -- has Dutch nationality. The group says Dutch authorities reportedly informed al-Mansuri's son of his father's forcible return to Iran on August 9.
Most Iranian Arabs live in Khuzestan province, which borders Iraq to the east. Tensions have been mounting in the province, with hundreds of people being reportedly arrested in recent months.

Iran's Arab Minority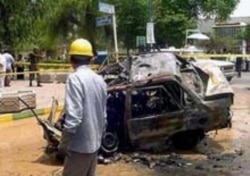 The aftermath of a car bombing in Ahvaz on June 12, 2005 (epa)
DISCONTENT IN THE SOUTH: There are approximately 2.07 million ethnic Arabs in Iran (3 percent of the total population of 69 million), most of them living in the region around the southern city of Ahvaz. The region has been the scene of numerous terrorist attacks and demonstrations over the years. Arab groups cite historical grievances, and they bemoan inadequate attention to their culture and language by state media....(more)
RELATED ARTICLES
Handling Of Ahvaz Unrest Could End With Televised Confessions
Bombing Accusations Highlight 'Differences And Disagreements'
Bombings In Southwest Blamed On Usual Suspect