Watchdog Criticizes Kazakh Clampdown On Youth Groups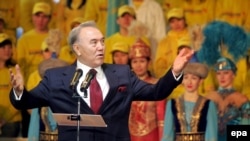 Kazakh President Nazarbaev pictured on the campaign trail in December 2005 (epa) August 12, 2006 -- An international rights watchdog has criticized Kazakhstan's government for clamping down on pro-democracy youth groups.
The Vienna-based International Helsinki Federation for Human Rights said the Kazakh authorities have denied many groups registration, disrupted their meetings, and threatened to youth activists with expulsion from their universities.
The rights watchdog said that it was concerned that the clampdown was part of a larger wave of suppression that began before the December 2005 presidential election, which elected the incumbent, Nursultan Nazarbayev.
(AP)