The decision comes after Turkish Prime Minster Recep Tayyip Erdogan last month said the Turkish military was considering cross-border operations to clear PKK bases in northern Iraq.
Authorities in Turkey, the United States, and the European Union have blacklisted the PKK as a terrorist organization.
The PKK has been fighting for Kurdish autonomy in southeastern Turkey since the early 1980s. An estimated 37,000 people have been killed in the conflict.
(AP)

Iraq's Kurdish Region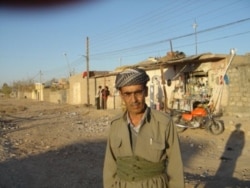 KURDISH AWAKENING: The ethnic Kurdish region in the northern part of Iraq has struggled in recent years to reestablish its cultural and political identity after decades of oppression under the regime of deposed Iraqi President Saddam Hussein. In December, RFE/RL correspondent Charles Recknagel traveled to this area and filed several reports:
Relative Peace Underscores Issue Of Kurdish Region's Future
Kurdish Culture Begins To Flourish In Kurdistan Region
Kurds Ponder How To Strengthen Autonomy After Elections