The Muruntau open-pit mine lies in the Qizilqum desert, 400 kilometers west of the Uzbek capital, Tashkent. Colorado-based Newmont Mining Corporation has lost control of its joint venture, which is facing tens of millions of dollars in back taxes and tax-evasion charges. But Newmont, the world's second-largest producer of gold, faces an uphill battle.
Newmont was one of the first major foreign investors to enter the Uzbek market in 1992, and accounts for nearly one-fifth of all U.S. direct investment in the country.

'Special Favor'

President Islam Karimov welcomed it at the time. He promised "government guarantees" and a "regime of special favor" for the joint venture, Zarafshan-Newmont, which began operating in 1995.

The climate has changed dramatically since then.

Uzbek authorities notified the company in March that tax reforms were on the way. By June, Uzbek courts had ordered Zarafshan-Newmont to pay $48 million in back taxes. Uzbek officials in August froze the joint venture's assets and seized some of its gold.
"Companies are finding it increasingly difficult to do their business here, and the actions that are taken with regard to some of these particular situations, I think, will lead other investors to draw conclusions." -- U.S. Assistant Secretary of State Richard Boucher
An official at Navoi's regional tax committee, Shahobiddin Shaymatov, insisted to RFE/RL that the tax charges are well founded.
"All procedures have been conducted in a legal manner," Shaymatov said. "[The company] was audited. The [audit] continues accordingly. I can't give you any official information."
Wrestled Away
On August 11, Newmont said the Uzbek government has launched a criminal investigation targeting the joint venture and its employees. Newmont's shares fell more than 2 percent in trading on the New York Stock Exchange the day of that announcement.
Authorities are blocking the export of any gold, and Newmont claims it has no control over day-to-day operations there.
Newmont's partners in the venture are the Uzbek State Committee for Geology and Mineral Resources (Goskomgeologia) and the Navoi Mining and Metallurgical Combine. They say the company continues to mine and process gold.
"We are fulfilling the plan," said Viktor Klepinin, one of Zarafshan-Newmont's managers. "As for a court decision about an incorrect payment of taxes, the [tax authorities are] considering this. That's all there is to the situation. The usual process is going on."
One of the joint venture's 900 workers, who identified himself as Avaz, also said work is continuing.
"Yes, we are working. So far, we are working," he said. "They said normal work should continue.... We are doing what we used to do. They gave us our salaries. The day before yesterday, they gave us an advance. There have been no formal changes."
Newmont officials in Denver, Colorado, were unavailable to comment for this report. Company representatives have suggested Newmont will seek international arbitration.
Significant Attention
Richard Boucher, the United States' assistant secretary of state for South and Central Asian Affairs, used a visit on August 9
to urge Uzbek authorities
to treat American businesses equitably.
"We keep in very close touch with American companies here," Boucher said. "Companies are finding it increasingly difficult to do their business here, and the actions that are taken with regard to some of these particular situations, I think, will lead other investors to draw conclusions. And therefore I'd say it's important that they be handled carefully and fairly."
Uzbekistan's ties with Western governments have soured since a deadly crackdown in eastern Uzbekistan in May 2005. More recently, official pressure has forced the closure of a number of foreign-funded NGOs and media outlets in Uzbekistan.
But there could also be a powerful economic incentive for official interference in Newmont's case. The Uzbek state budget is plagued by corruption, low tax receipts, and lagging reforms.
"I think [the motive for the dispute] is probably mainly financial," said Anna Walker, of the London-based Economist Intelligence Unit. "When the original terms of the agreement were drawn up, they were quite favorable for foreign joint ventures. As prices of gold have been extremely high in the last couple of years, the government realizes that it is quite a lucrative way of getting more money. So I think that is one of the principle reasons."
Walker suggested the Uzbek government could target any successful company, not just U.S. ventures.
Return Sans Investment
Foreign investors have left in the past, only to blame official interference for their departures.
Don Kang headed Kabool Textiles Uzbek Ltd., an Uzbek-Korean joint venture that was once a leader in cotton-fiber production in Uzbekistan. Uzbek authorities took control of that company in July 2005, citing mounting debts.
Kang told RFE/RL recently that Newmont's case highlights the risk of investment in Uzbekistan and impedes foreign investment.
"It's getting worse and worse," Kang said. "If [Uzbek authorities] are trying to do this thing again, I think all other countries will be very afraid of investing in any other field as well. If they are trying to seize [an] American company in Uzbekistan illegally or unfairly, the Uzbek government will be in trouble in the world society in the near future."
The U.S. State Department says Uzbekistan has the lowest level of foreign direct investment per capita among members of the Commonwealth of Independent States. U.S. companies have invested some $500 million in the country since its independence in 1991, but the State Department claims there have been no major investments in the past five years.
Newmont has suggested is willing to sell out and walk away if it can cover its $94 million investment.
But Newmont's extrication could send a powerful message to other investors that the risks of "business as usual" in Uzbekistan far outweigh the benefits.
(RFE/RL's Uzbek Service contributed to this report.)
China In Central Asia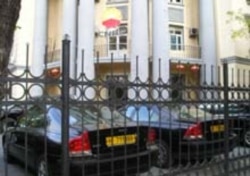 The Almaty,Kazakhstan, office of China's National Petroleum Corporation (RFE/RL)
BEIJING ON THE RISE:
The September 11, 2001, terrorist attacks against the United States prompted Washington to topple the Taliban regime in Afghanistan. At the time, many predicted the United States would gain a new foothold in Central Asia: new U.S. military bases appeared in Kyrgyzstan and Uzbekistan, U.S. foreign aid increased, and much U.S. attention was lavished on the region. Russia and China looked on warily. But the pendulum may be swinging back in Moscow's and Beijing's favor. China, especially, has expended great effort at winning friends in Central Asia and is becoming a force to be reckoned with
....(more)
RELATED ARTICLES
Turkmenistan-China Pipeline Project Has Far-Reaching Implications
Central Asia Looks To Fuel Asia's Economic Boom
The Geopolitical Game In Central Asia
ARCHIVE
To view an archive of RFE/RL's coverage of China, click here.

SUBSCRIBE
For weekly news and analysis on all five Central Asian countries by e-mail, subscribe to "RFE/RL Central Asia Report."