The Iranian president told cheering crowds in the northwestern city of Ardebil that Hizballah had won a victory for Islam, foiling what he said were plans for a U.S. and British-dominated Middle East.
Ahmadinejad also said that supporters of Israel's "brutal invasion" of Lebanon should be brought to justice.
"Those who had a hand in the planning of the brutal invasion and then supported the brutal invasion and prevented a cease-fire from being established are guilty of taking part in crimes committed by the Zionist regime and should also be prosecuted for these crimes," he said.
Iran and Syria are Hizballah's main backers and Ahmadinejad echoed
earlier comments
by Syrian President Bashar al-Assad in Damascus.
(AP, dpa)
Iran, Syria, And Hizballah
Iran, Syria, And Hizballah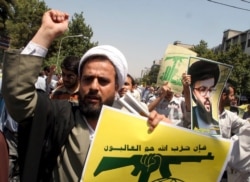 Iranians demonstrating in support of Hizballah in Tehran on July 17 (epa)

'FOR THE SAKE OF LEBANON': The Islamic Republic of Iran has served as an ideological inspiration for Hizballah since the Lebanese militant group's creation in 1982, and Tehran acknowledges that it supports the organization morally and politically. "Yes, we are friends of Syria and Iran" Hizballah leader Hassan Nasrallah has said. "For 24 years we benefited from our friendship with Syria and Iran for the sake of Lebanon...." (more)
RELATED ARTICLES
Tehran Playing Key Role In Israel-Lebanon Crisis
Iran, Hizballah Brush Off U.S. Terrorism Label
Intifada Conference In Tehran Has Multiple Objectives
UN Resolution Rankles Syria, Hizballah, Iran
ARCHIVE
RFE/RL
coverage of Iran
. RFE/RL web special on
Iran's nuclear program
.
SUBSCRIBE
For weekly news and analysis on Iran by e-mail,
subscribe to "RFE/RL Iran Report."