Japan Seeks Release Of Fishermen Seized By Russia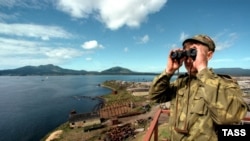 A Russian border guard on Kunashir Island in the Southern Kuriles (file photo) (ITAR-TASS) August 17, 2006 -- Japanese officials are heading to a disputed Russian island to negotiate the release of three Japanese fishermen seized by Russian border guards on August 16.
They also hope to bring home the body of another fisherman shot dead in the incident, which occurred in Russia's Pacific territorial waters near the disputed Southern Kurile islands, which Japan calls its Northern Territories.
The fishermen could be fined and imprisoned for poaching, smuggling, and illegally crossing the border.
Japan's Foreign Ministry has called for their immediate release and protested at what it views as Russia's extreme response to the alleged poaching.
Japanese diplomats have not yet had direct contact with the fishermen.
(AFP, AP)