About 100 Communist Party supporters, most of them elderly and many waving red flags, gathered on Red Square to denounce the Soviet Union's collapse and to voice their regret at the failure of the three-day coup bid that began on August 19, 1991.
The anniversary of the coup, whose failure led to independence for Russia and the 14 other Soviet republics, is a time of regret for many.
President Vladimir Putin has called the 1991 breakup of the Soviet Union the "biggest geopolitical catastrophe" of the 20th century.
(AFP)
A photo gallery presentation of the August 1991 events (Flash required)
MORE: Coverage of the coup from RFE/RL's Russian Service in Russian.
Mikhail Gorbachev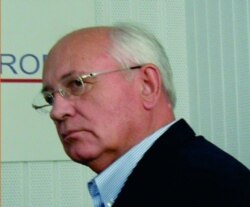 Mikhail Gorbachev in RFE/RL's Moscow bureau in August 2001 (RFE/RL)
AN UNCERTAIN LEGACY:
According to a recent Harris poll, some 59 percent of European Union residents regard former Soviet President Mikhail Gorbachev as the best Soviet/Russian leader. Just 12 percent named Russian President Vladimir Putin and 4 percent picked former Russian President Boris Yeltsin. Within Russia, the situation is quite different, with only 12 percent of Russians saying they have a positive impression of Gorbachev in a recent poll.
Gorbachev has been a frequent guest in RFE/RL's studios, offering his assessment of key domestic and international events.
RELATED ARTICLES
Gorbachev Reflects On The Legacy Of The Coup
Gorbachev Speaks To RFE/RL Ahead Of 75th Birthday
Gorbachev Speaks About Democracy, Authoritarianism
Gorbachev Remembers Pope John Paul II
SUBSCRIBE
For news and analysis on Russia by e-mail,
subscribe to "RFE/RL Russia Report."